Imperial Palace is the official home of the Emperor of Japan, the site used to be the old Edo Castle.
It's huge park-like space surrounded by moat, mostly restricted – So,,, where shall we head for especially when with baby/kids?
*Tips : Better bring some drinks or snacks for kids before you arrive there, as there are no convenience store or food shops around imperial palace.
For family with baby/small child
Imperial palace outer park
Clean lawn garden with Japanese pine trees around Kusunoki Masashige statue.
It's officially arrowed to enter this lawn area. No playground equipments, but good area for baby/toddler to practice walking.
*Public Toilet, Vending machines, indoor rest space are here.
Imperial palace Kokyo Gaien (outer park) (Link to Ministry of Environment )

Address : 1-1, Kokyo gaien, Chiyodaku, Tokyo, 101-0002 (Link to Google MAP)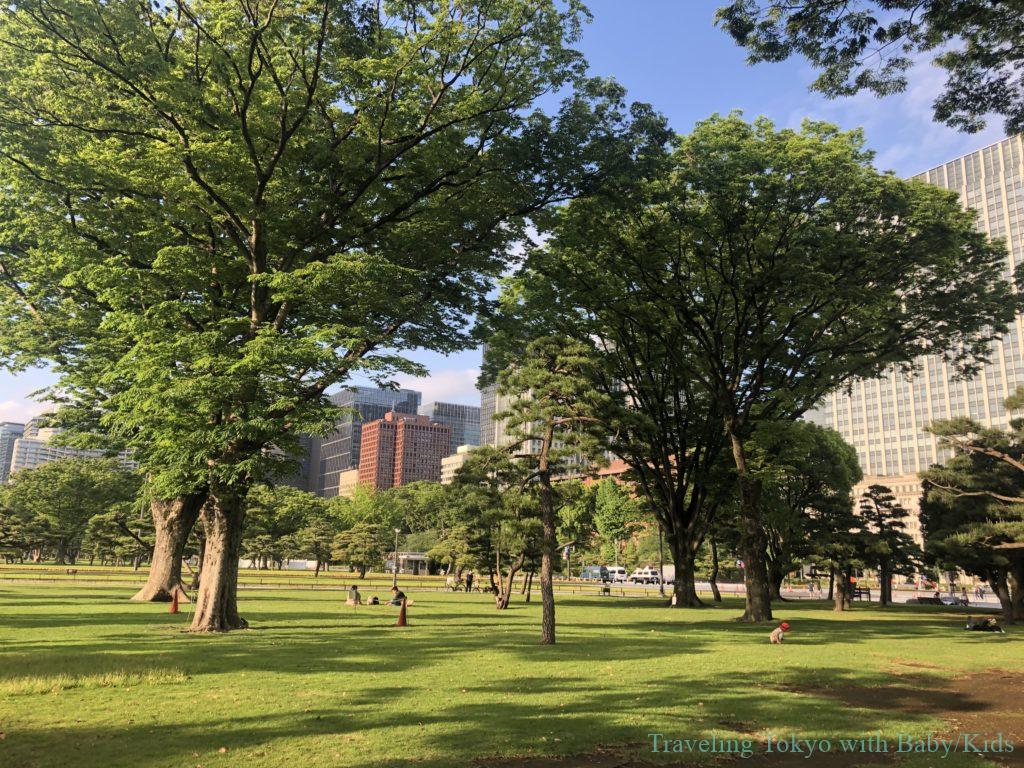 Hibiya park is one of the oldest public park located between Imperial palace and Ginza area.
There are fountain, Japanese style garden, flower area, some restaurants, and kids playground area opens from 9am to 16pm.
Hibiya Park (Link to detail)

Address : 1, Hibiya-park, Chiyoda-ku, Tokyo, 102-0012 (Link to Google MAP)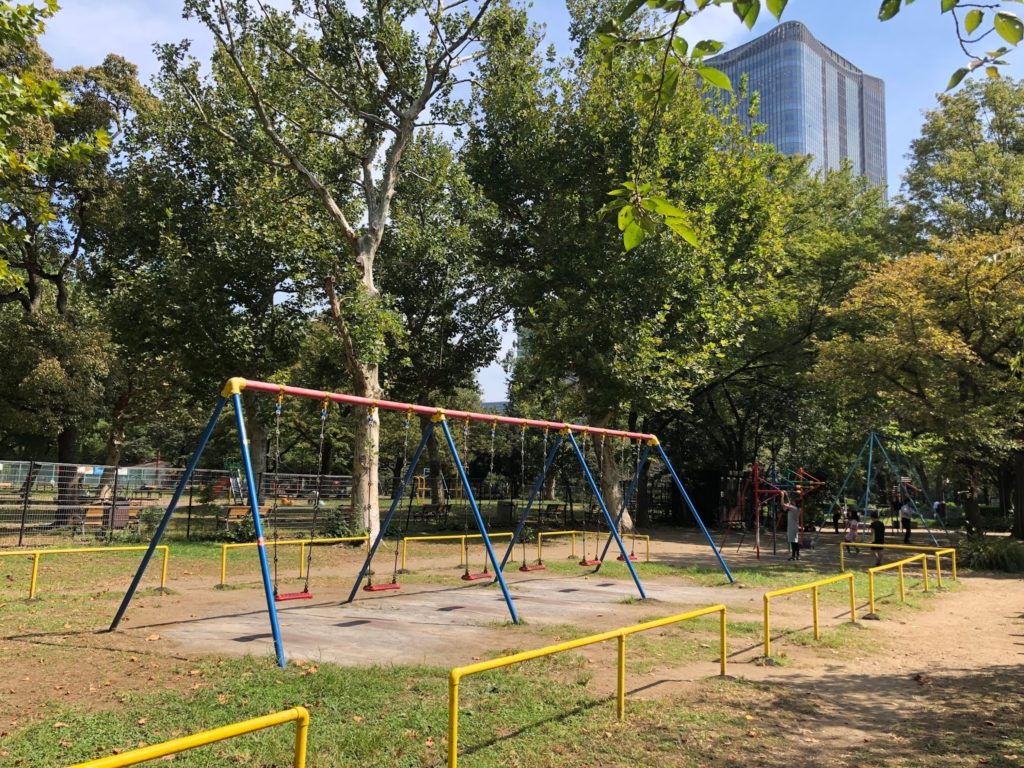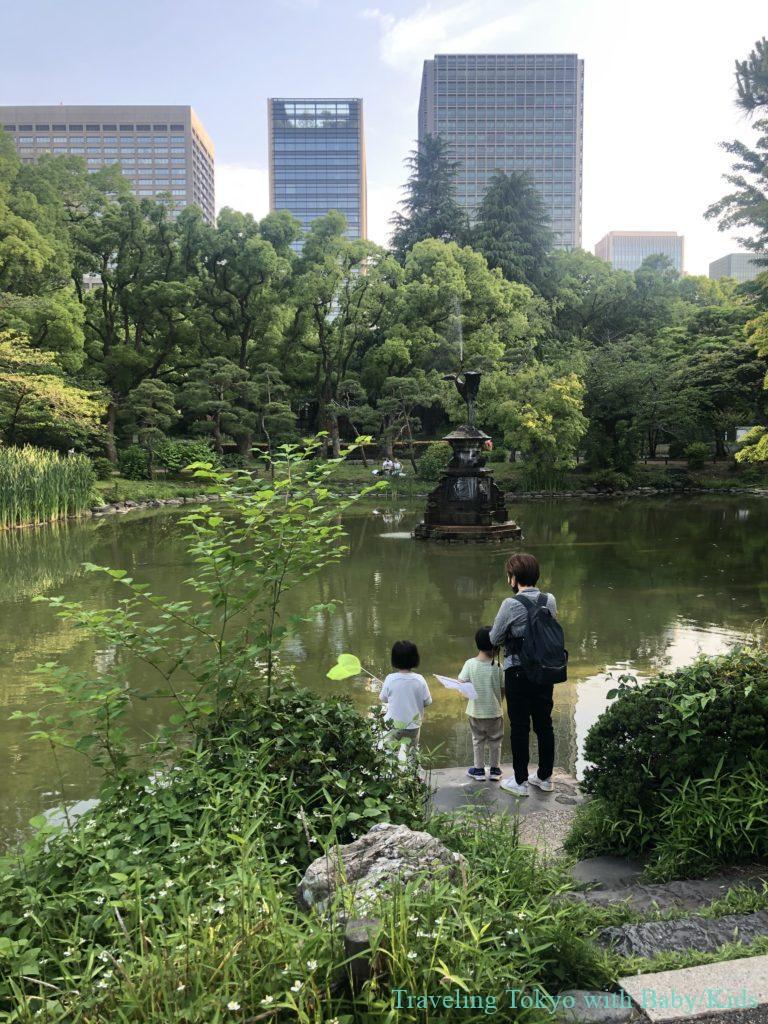 ---
---
Scenic small park along with moat on west side of palace. Especially Cherry blossom season is amazing.
There is clean public toilet, and very small kids playground.
It's near Imperial Palace police box – always super safe.
Chidorigafuchi-park (Link to "Japan Experience" page)

Address : 1-2, Kojimachi, Chiyoda-ku, Tokyo, 102-0082 (Link to Google MAP)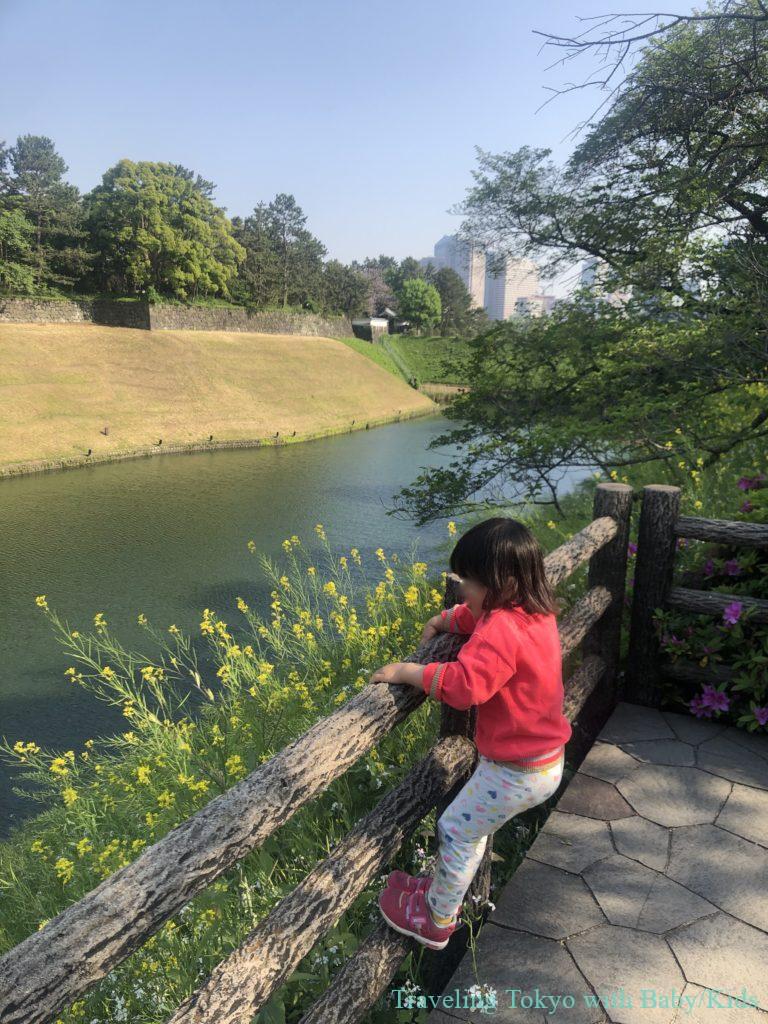 ---
---
For scenery (cherry blossom / autumn leaves viewing)
It's Edo-castle ruin garden open to the public.
(Closed on Monday and Friday, please check official page before you visit)
More about The East garden of the Imperial palace
The East Garden of the Imperial Palace (The Imperial Household Agency official website)

The East Garden of the Imperial Palace (Chiyoda-ku official website)

Address : 1-1, Chiyoda, Chiyoda-ku, Tokyo (Link to Google MAP)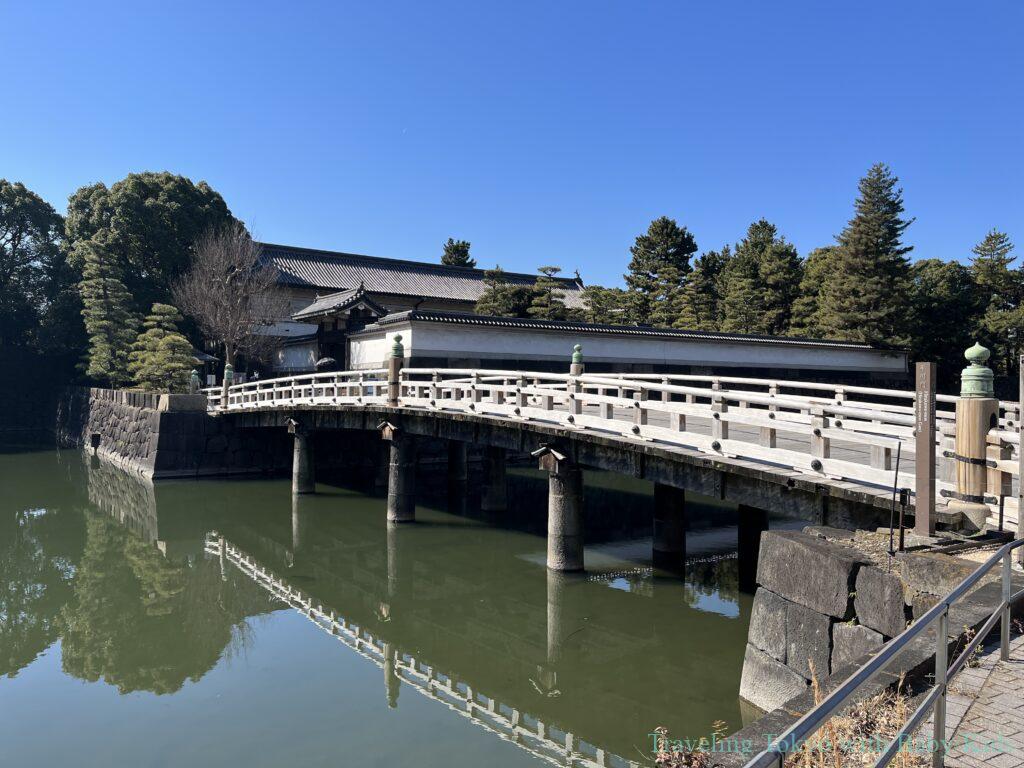 Kitanomaru park
Large peaceful public park on North side of Imperial Palace.
(No playground equipment for kids)
Budo-kan Hall, The National Museum of Modern Art, and Science Museum (admission 880yen/adult, free for children under 4years old) are also located in this garden.
Kitanomaru park (Wikipedia)

Address : 1-1, Kitanomaru park, Chiyoda-ku, Tokyo, 102-0091 (Link to Google MAP)

Science Museum (Official Website)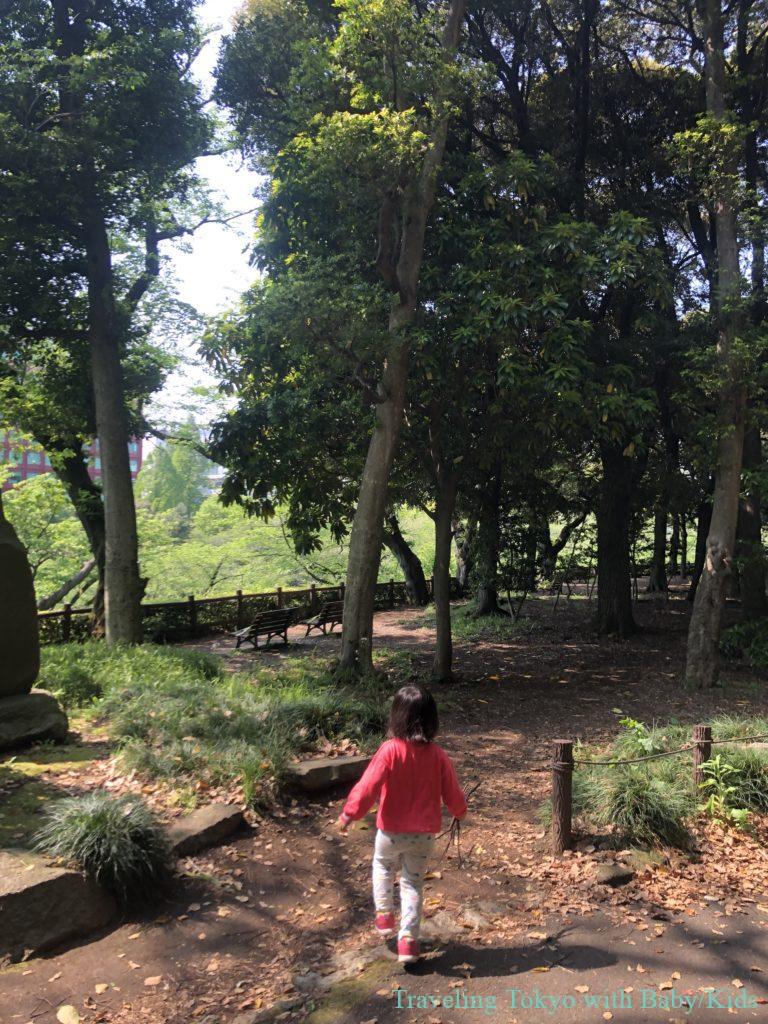 ---
Related articles
Public park near Imperial Palace – Hibiya Park
Restaurants & cafes near Imperial palace – Midtown Hibiya
Cozy walk route near Imperial palace – Marunouchi Street
Where is good? Best Tokyo Cherry Blossom viewing spots with baby/kids
---