Is Tsukiji fish outer market family friendly?
TSUKIJI outer fish market is still popular sightseeing spot in Tokyo even after famous fish wholesale market moved to TOYOSU from Oct.11th 2018.
Although wholesale area has moved, many kind of food stores are stayed in Tsukiji and still so lively and exciting to see.
I usually would not recommend to visit with baby / small kids because its very crowded, but family also can enjoy if you know some comfortable area to walk.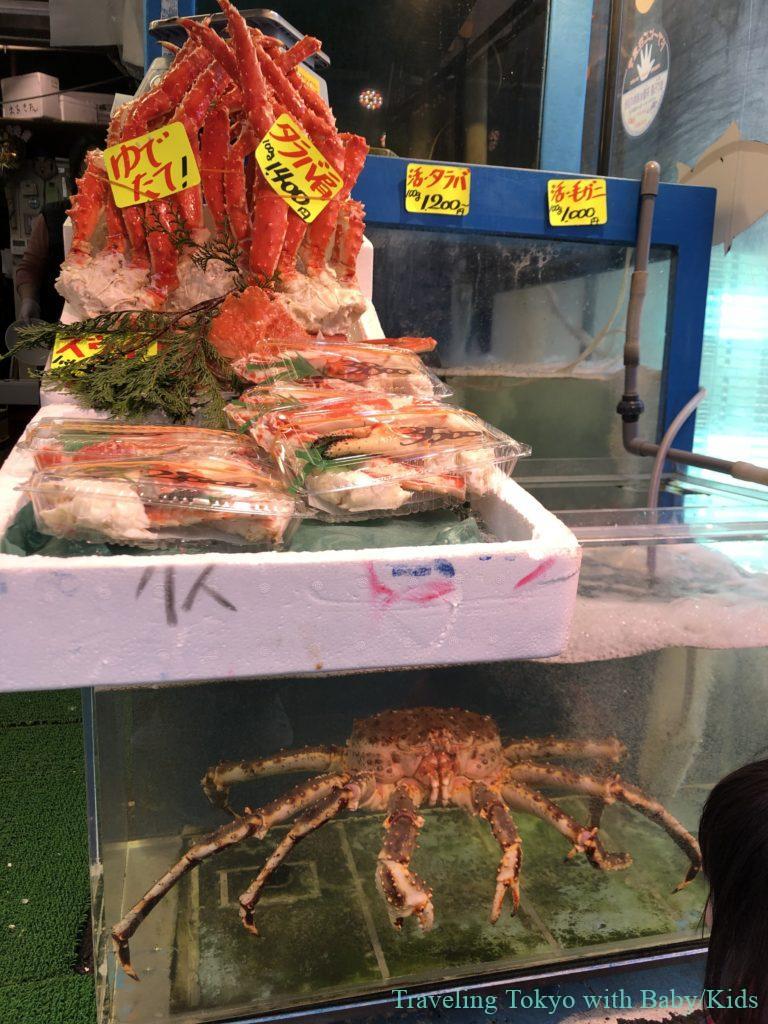 Most important : Check opening date & hours
First of all, better to know good timing to visit.
Date: Most of shops are closed on Sundays and on Wednesdays, and Saturday afternoon as fish wholesale market is closed.

Time: 9:00 – 13:00 is the best for sightseeing.
For professionals, AM5:00 – 9:00.
Generally early morning is for professionals – general customer / tourists are welcomed after AM9:00. Then many shops start to close around 13:00~15:00.

Better to be there at le11ast by noon if you want to enjoy Tsukiji atmosphere.
Tsukiji fish market business calendar (*Japanese only)

Hint for shopping at Tsukiji market (Official website in English)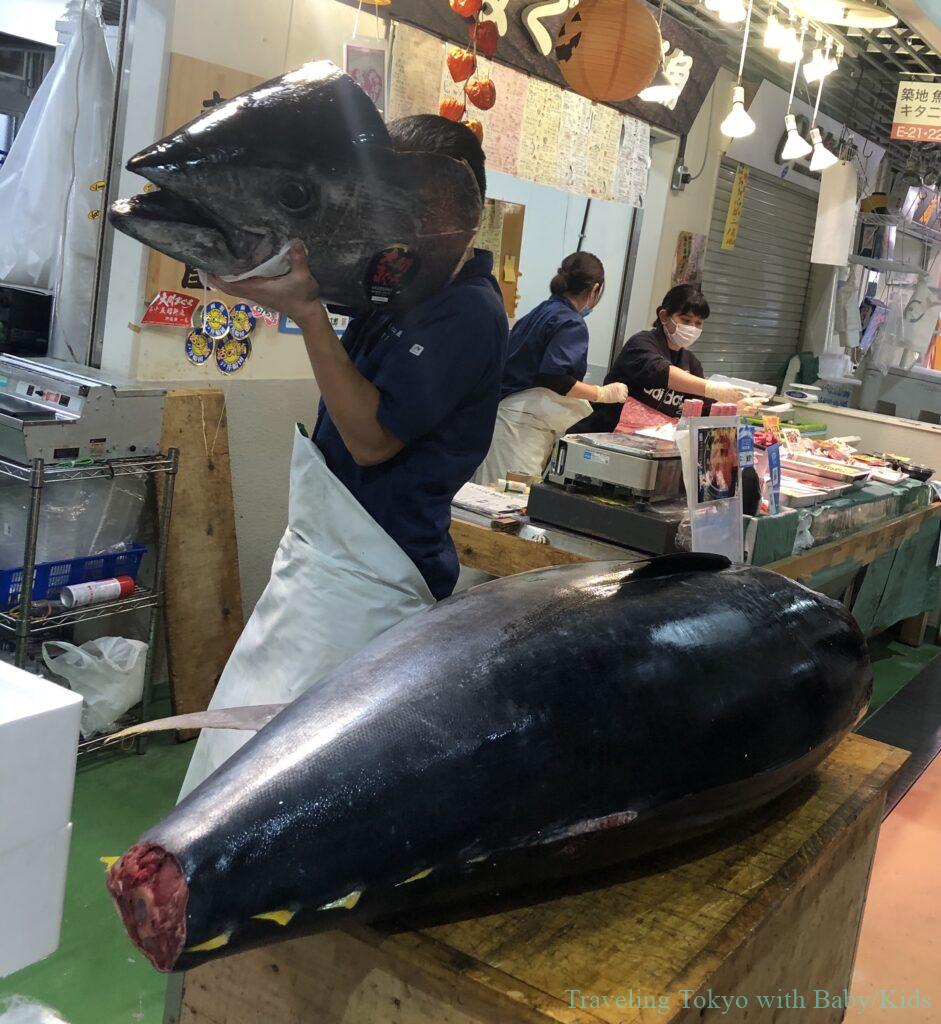 ---
Best area to walk with kids – "UOGASHI" market
There is Indoor market area called "U-O-GA-SHI". This building is the best route for family.
1st floor — Fish Market area, but not too much crowded. Nicely air-conditioned – easier for baby&moms.
3rd floor — Casual food court type restaurant, Free-rest space.
Terrace area — Open-deck terrace space. Small kids can walk around a little bit.
Tsukiji U-O-GA-SHI (Official website)

Address : 6-26-1, Tsukiji, Chuoku, Tokyo (Link to Google MAP)
Fish market – 1F
Fish, shellfish, shrimps, vegetables,,, all seafoods are lively on sale.
Not only kids everyone can enjoy just to look around.
Some shops sells small potion for lunch – you can eat at free-rest space on 3F.
( Can not eat and walk on 1F )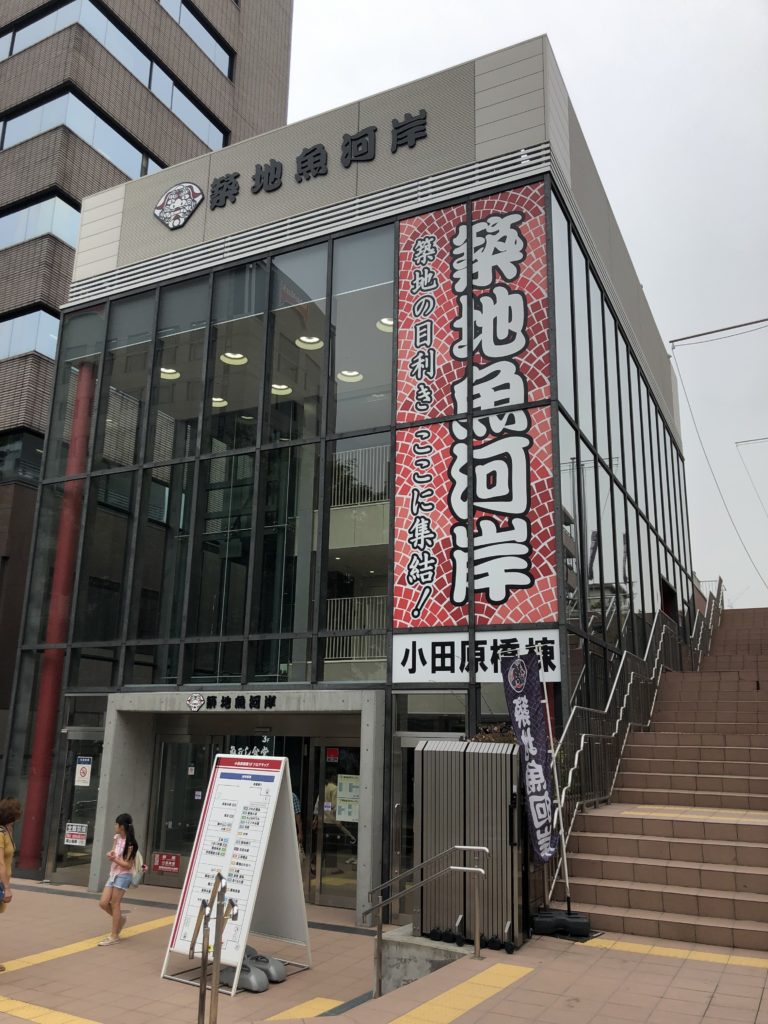 Food court – 3F
There are couple of kind of casual restaurants, small rest space on 3F.
You can eat those casual restaurant dishes, or you can eat the seafood you bought from market at free rest space / terrace table.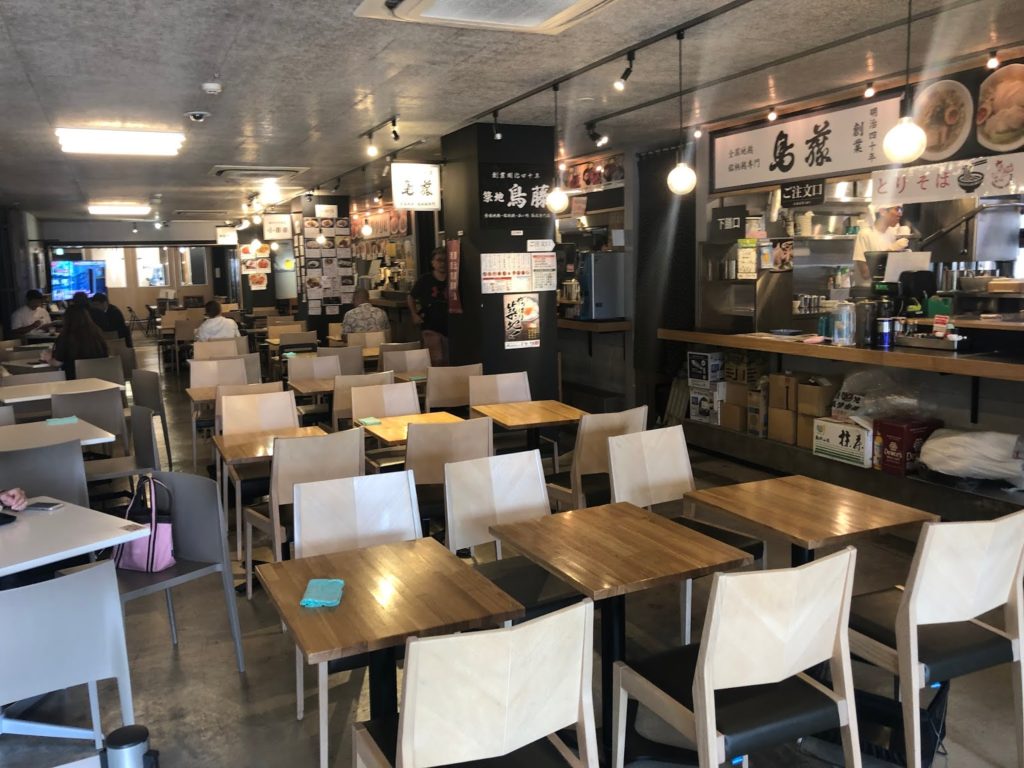 Terrace deck (Free rest space) – 3F
Open for public. Toddler can walk around a little bit.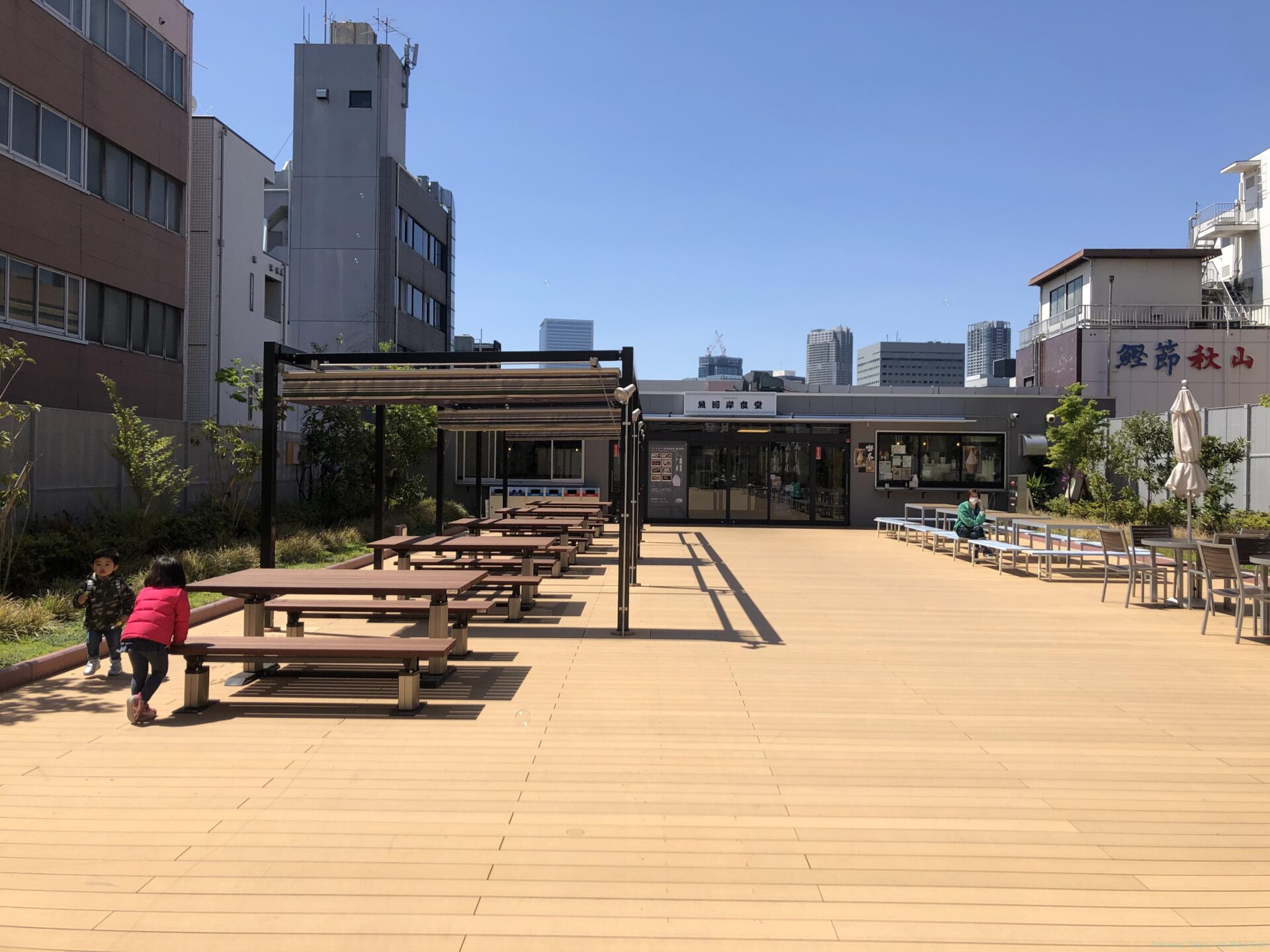 Toilet / Diaper changing board – 1F & 3F
Clean public toilet and diaper changing board are available.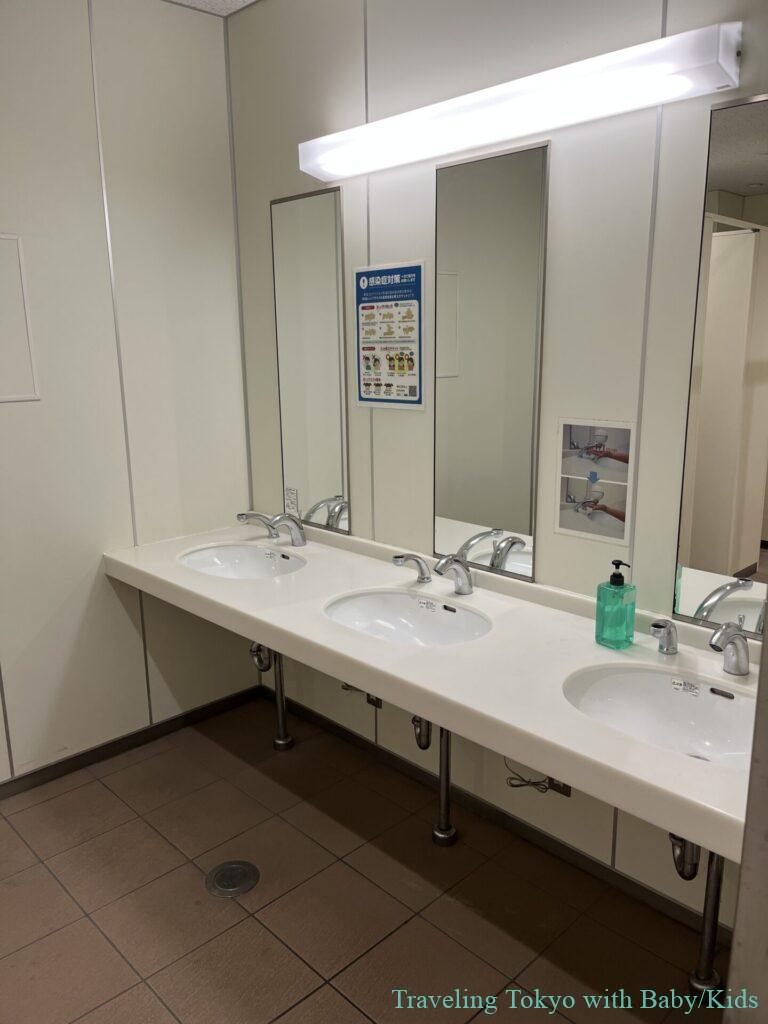 ---
---
Which restaurants is good in Tsukiji?
I think most of all restaurants in Tsukiji are family-friendly and taste great. Just space is super small…
Basically every store has menu with picture in front of entrance – if your family member seems fit, enter wherever you are interested in and enjoy!
If you need larger space, these are some of my recommendations.
—> Tsukiji Lunch place with baby/kids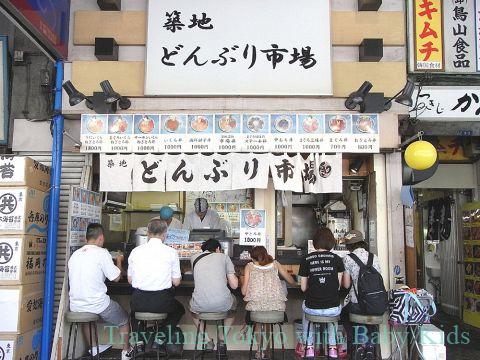 ---
Visit Tsukiji Nami-yoke Shrine
"Nami-yoke" literally means protect from wave.
As the God which protects against misfortunes and helps human to get over periods of turmoil, Namiyoke-shrine is highly worshipped by people who pray for warding off bad luck, for divine protection from calamity, good business, safety during constructions, and others.
Namiyoke shrine (Official website, Japanese only)

Address : 6-20-37, Tsukiji, Chuoku, Tokyo (Link to Google MAP)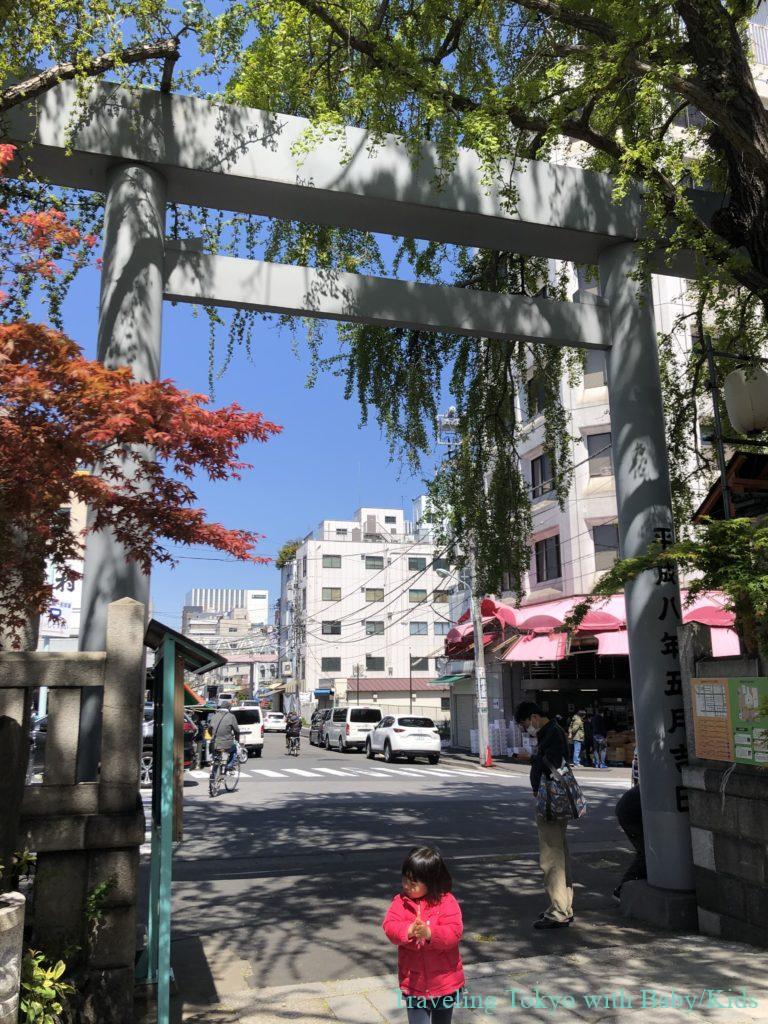 ---
---
Tips for parents with baby / toddler
Better to use baby carrier (if you can).


Tourist information center can keep your stroller. (please see photo below)


No specific Nursing room or Child-care room in this area. Better to bring nursing cover.
I was led to Multipurpose bathroom when I asked before at information center.


This family-friendly temple has nursing room and place to relax.
—> Nursing room and cozy cafe in Tsukiji


Tourist information Center at Tsukiji outer fish market (Link to JNTO page)

Address : 4-16-2, Tsukiji, Chuo-ku, Tokyo (Link to Google MAP)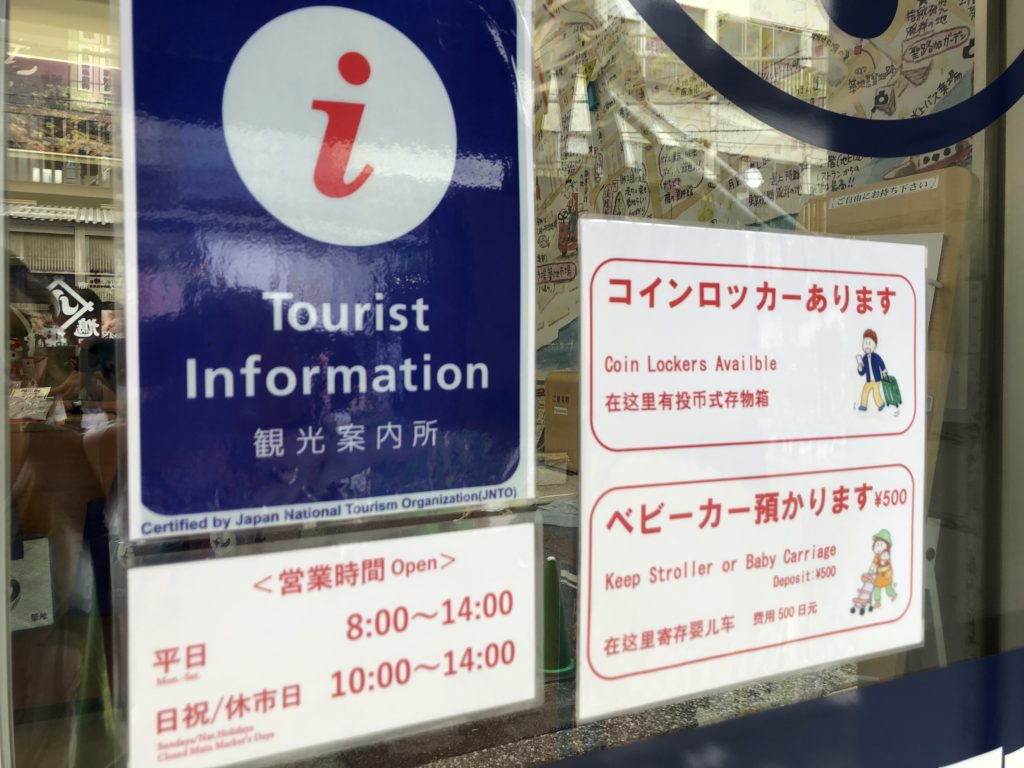 ---
Avoid at end of the year / New year holidays if you are with baby
I advise you that you better NOT take baby/toddler to Tsukiji market at new year holiday season.
It is very much crowded from about Christmas till Dec.31 every year.
Baby stroller never can go through, even holding baby could be almost crushed.
It's so fun to see the excitement though,,, so if you want to experience it, better to go only by adults.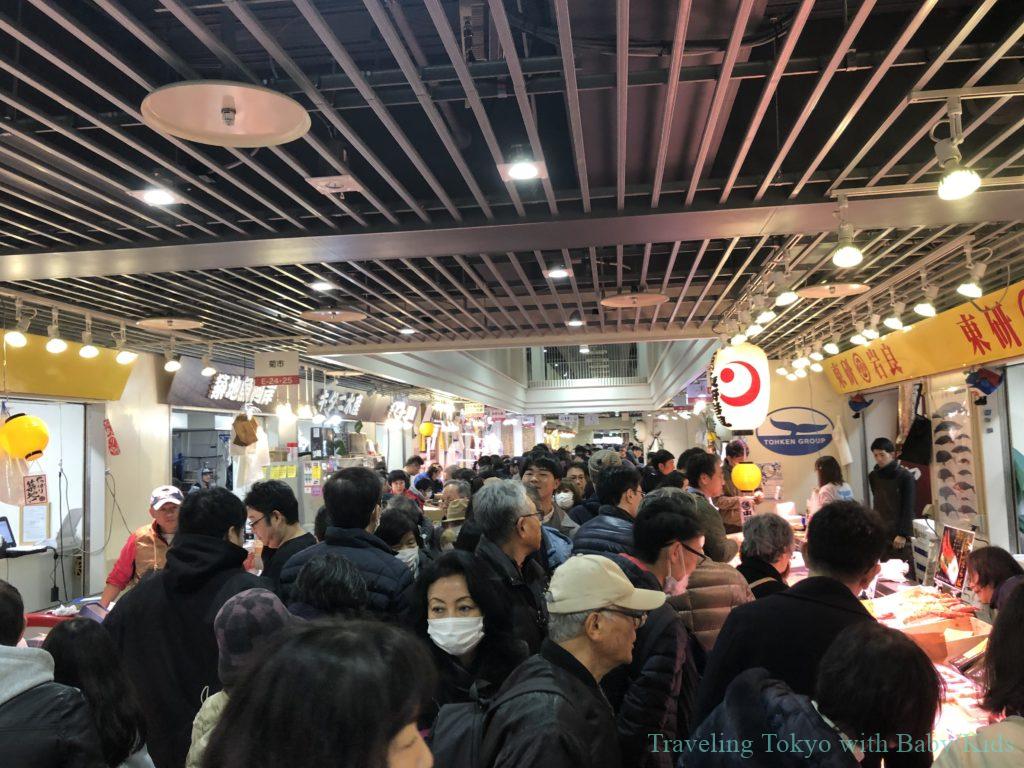 ---
Related articles
Where is good place for lunch with baby/kids in TSUKIJI, Tokyo?

7 family-friendly coffee shop / cafe in Tsukiji

Comfortable cafe in Tsukiji with nursing room

Sushi making experience in Tsukiji

Beautiful Japanese garden "Hama-Rikyu"
---
Other articles