Is Tsukiji fish market kids friendly?
TSUKIJI market is still popular spot in Tokyo even after famous fish wholesale market moved to TOYOSU from Oct.11th 2018.
Although wholesale area is closed, many kind of food stores are still here and still so lively and exciting to see.
I usually would not recommend to visit with small baby because its very crowded, but family also can enjoy if you know some comfortable area.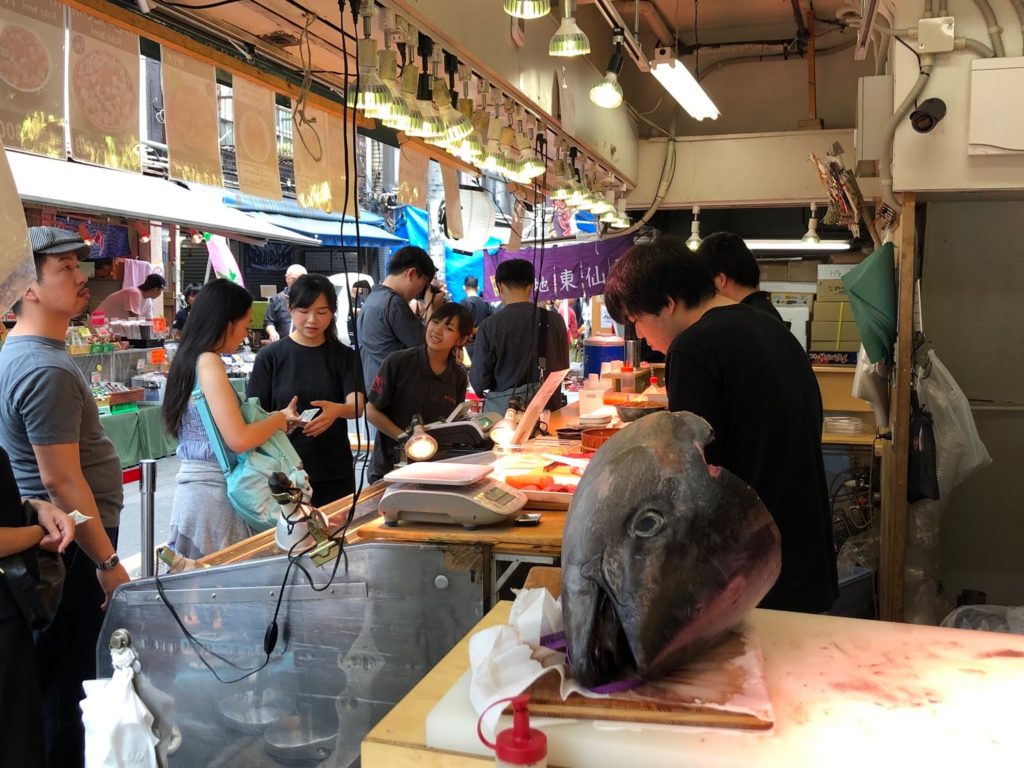 Best area to walk around with baby/toddler in Tsukiji
There is air-conditioned market area called "U-O-GA-SHI" 「築地魚河岸」. This new building is the best route for family.
→1st floor is market area but not so crowded. Nicely air-conditioned so much easier for baby/kids.
→3rd floor has casual food court type restaurant, free-rest space.
→3rd floor also has open-deck terrace space. Small kids can walk around a little bit.
big tuna cutting if lucky

Air-conditioned

Tsukiji Uogashi entrance (a)

Uogashi entrance (b)

No eating on 1st floor.
Lets go Upstairs to eat.

Not so crowded, walkable with stroller

Casual restaurant on 3rd floor

Free-restspace on 3rd floor

3rd floor (Outdoor terrace)

Free rest space

Diaper changing stand at multiple bathroom
Tips for family with baby
Better to use baby carrier, not baby stroller. It would be hard to go thorough… Too crowded. "U-o-ga-shi" is not so hard to pass.

Tourist information center has stroller keep service (please see photo below)

No specific Nursing room or Child-care room in this area.Better to bring nursing cover. (I was led to Multipurpose bathroom when I asked at information center)
Check Opening date and hours before you go
Date: Most shops are closed on Saturday, Sundays and on some Wednesdays because Fish Wholesale market is closed.

Time: AM5:00 to PM15:00

not so fun after many store closed… better to be there at least by noon if you want to enjoy Tsukiji atmosphere.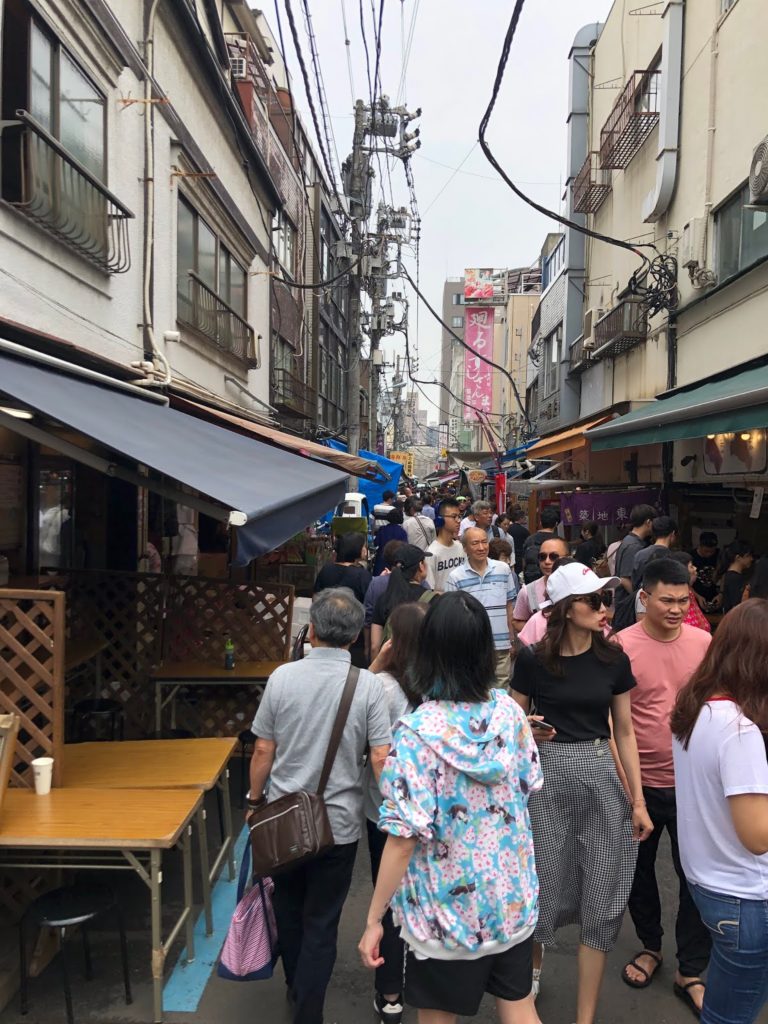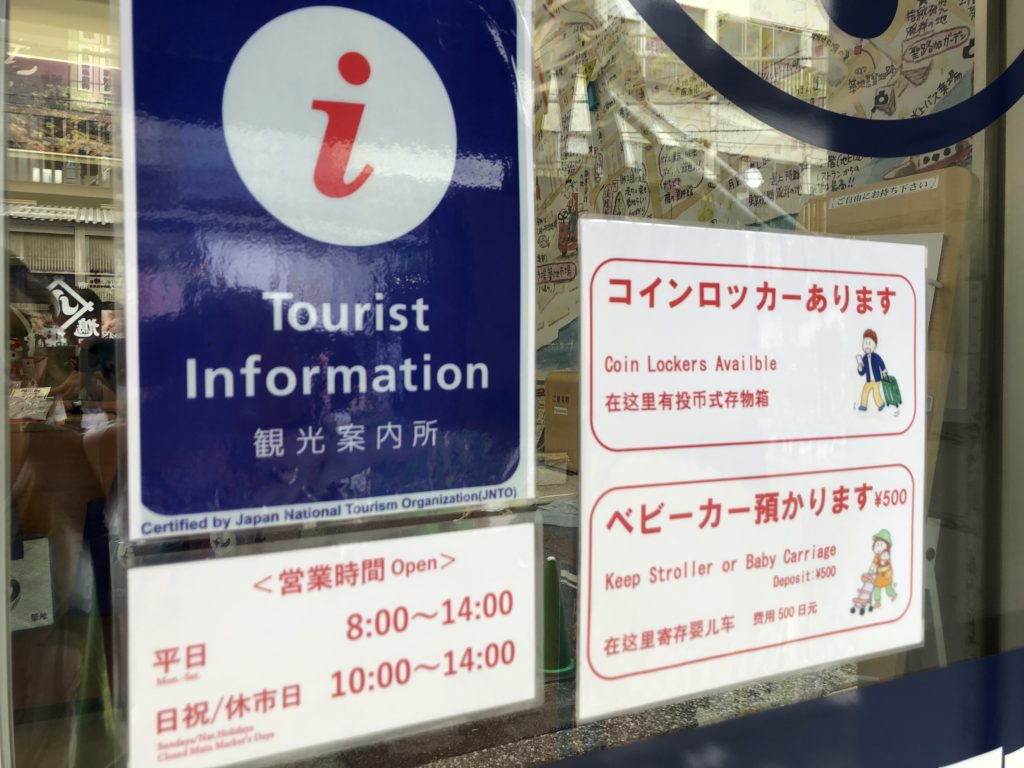 Avoid at end of the year / New year holidays
I must advise you that you better NOT take baby/toddler to Tsukiji market at new year holiday season.
It is very much crowded from about Christmas till Dec.31 every year.
Baby stroller never can go through, even holding baby could be almost crushed.
It's so fun to see the excitement though,,, so if you want to experience it, better to go only by adults.
hard to go through

too busy

no stroller welcome..
LINKS
■Tsukiji U-O-GA-SHI(Link to other site)
Address : 6-26-1, Tsukiji, Chuoku, Tokyo

■Tsukiji market official HP

■TOYOSU fish market
Other recommend place near Tsukiji
→Comfortable cafe in Tsukiji with nursing room

→Sushi making experience in Tsukiji

→Beautiful Japanese garden "Hama-Rikyu"
---
Other articles