[Japanese electric assist bike ]
It's always nice to ride bike to explore city actively.
You might find red bike all over Tokyo often – Those are shared bicycle in Japan called "Bike Share" or "Community Cycle" (sponsored by Docomo), Just like Santander Cycles in London, or Velib' in Paris.

The good thing is, it's electric assist bicycle.
Very comfortable to run to go anywhere…!

Although there are no child seat available for this bike, If your child is taller than 145cm (about 57inch), you can rent those bike.
*Please note minor must be accompanied by a parent or guardian.
Of course please take care of your kids very well while riding bike, Japanese Traffic sign or rules might be confused for kids.

*In Japan, cars drive on the left side of the road.
*Helmet is not included.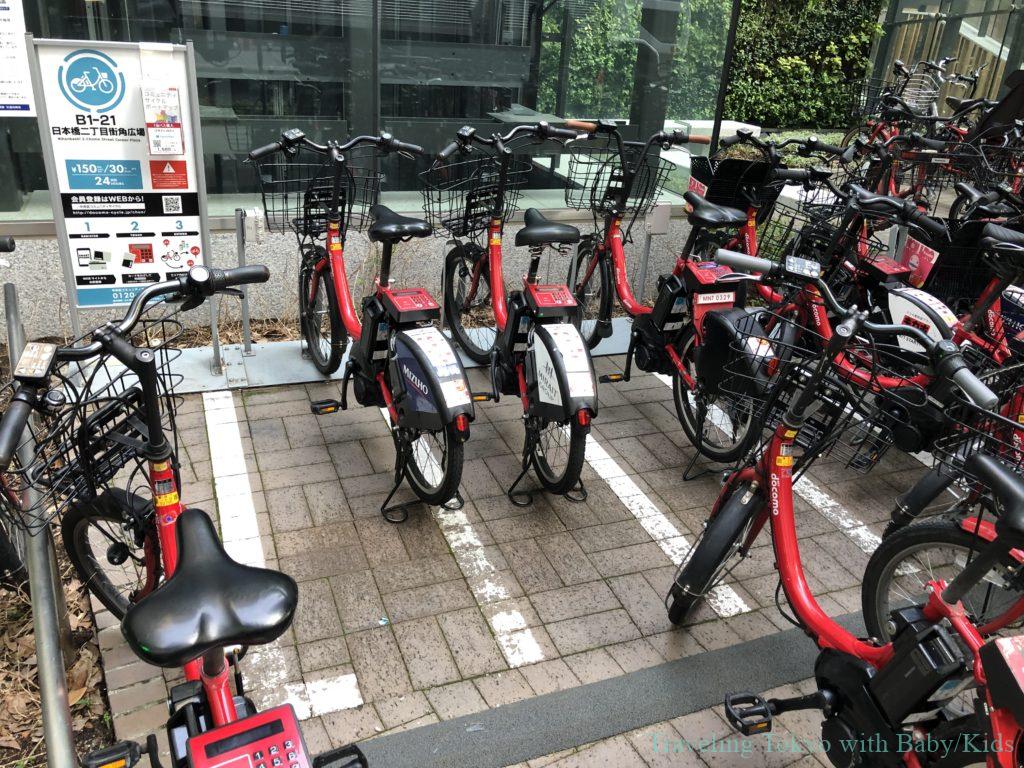 ---
---
How to use "Tokyo share bike"
1, Register online or Visit "1-day pass counter"
Read this web site well and register in advance.
Or visit 1-day pass ticket counter.
It would be fine if you are experienced in other country,
But if not, I recommend to go to "1-day pass counter".
(As there are also kiosk type ticket machine, go to the counter with staffs. )
If ask them, they will teach you how to rent.
Just note price is little bit more expensive than online.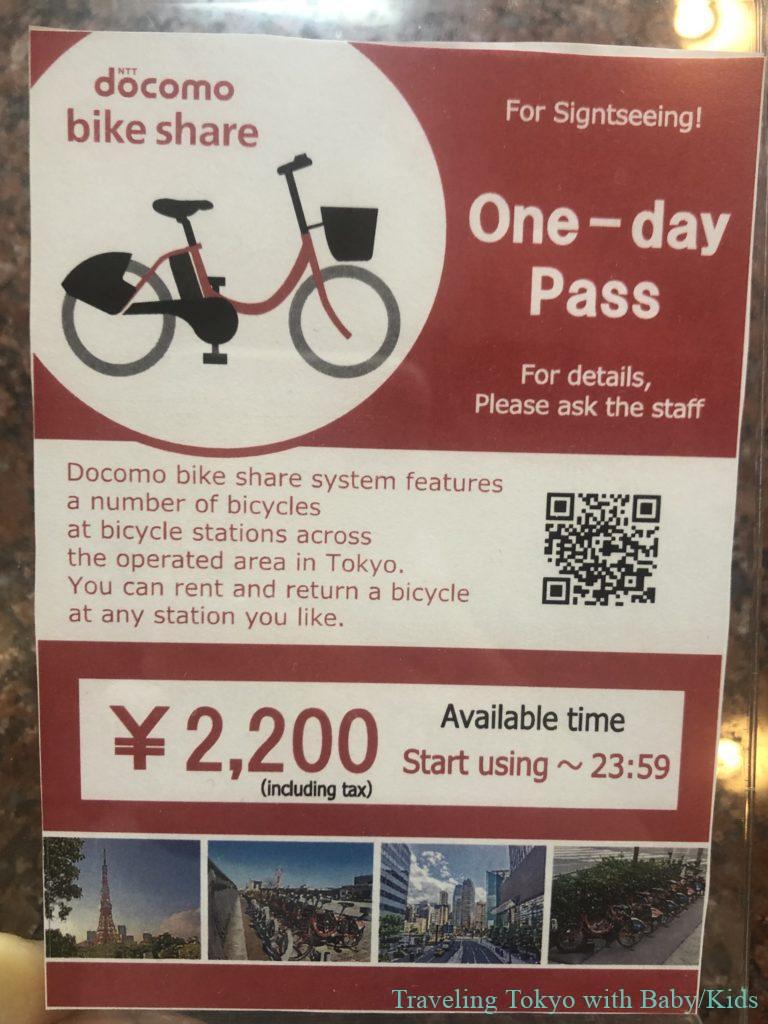 At 1-day pass counter, fill in the forms for each person.
Read terms and conditions well.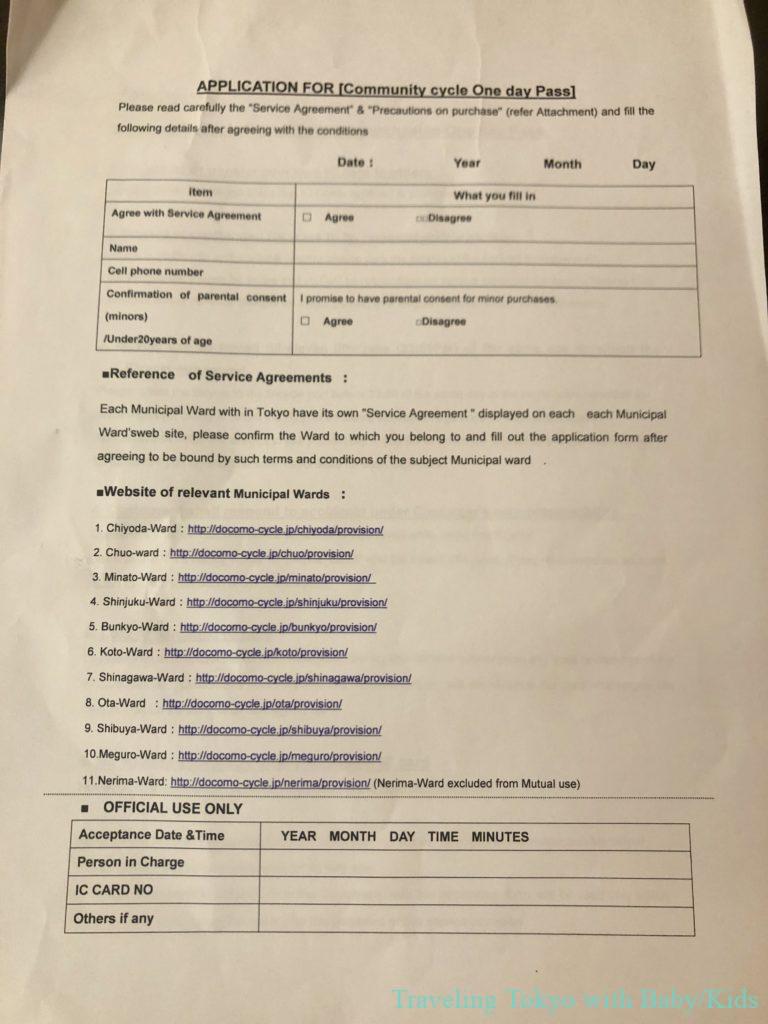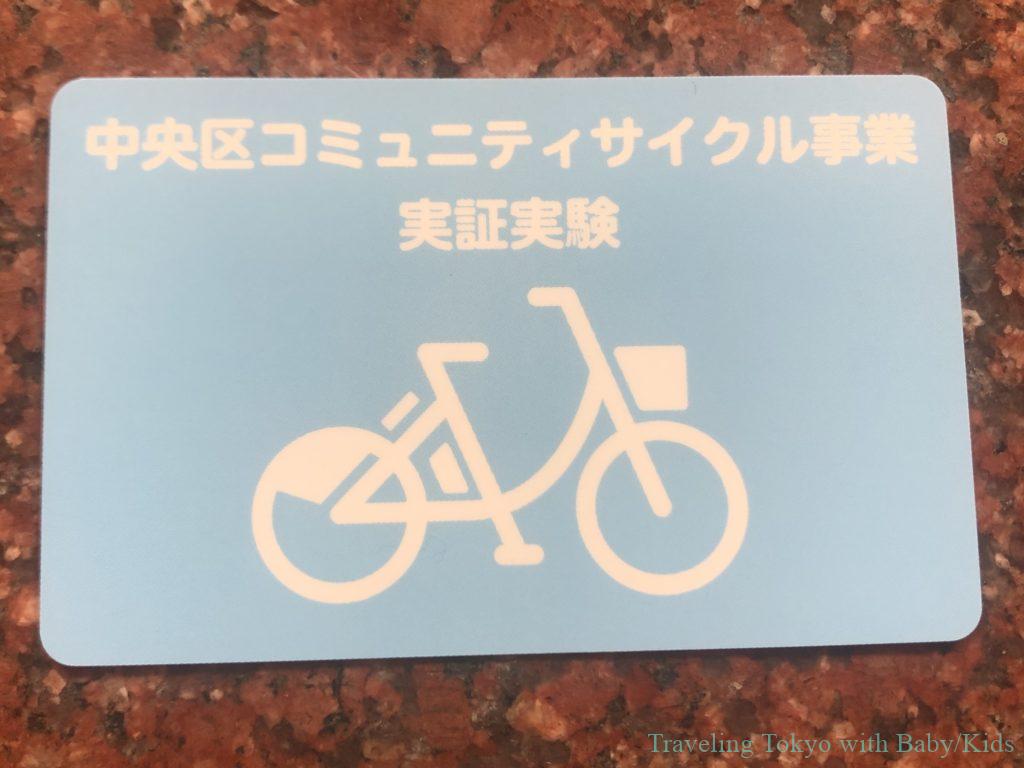 2, Find bike, check battery level
Find docking port from Tokyo Bike Sharing Station MAP.

If found some bikes, Let's check the battery level first.
—> Press green round button "ON/OFF" (some bike written in Kanji) on left side black square box of handle.
That % shows the battery level – Better to find at least 30% or more.
Also let's check bike's details whether it's all OK.

3, Check bike number, enter pass-cord
If you find bike with enough battery, see the bike number on the back wheel.
For example, [ TYO 9082 ] is the number.
Choose [ TYO 9082 ] on the reservation page on the web, then you will get 4 digit pass-cord.
Enter 4 digit pass cord to the bike.
Or use 1-day pass card to unlock.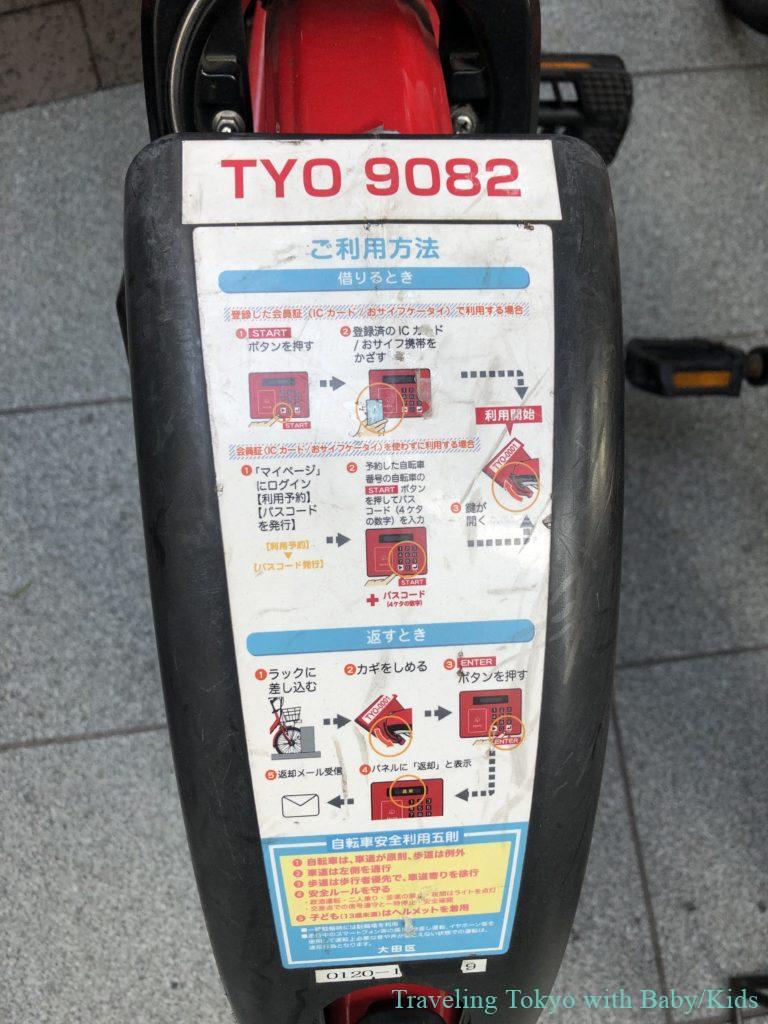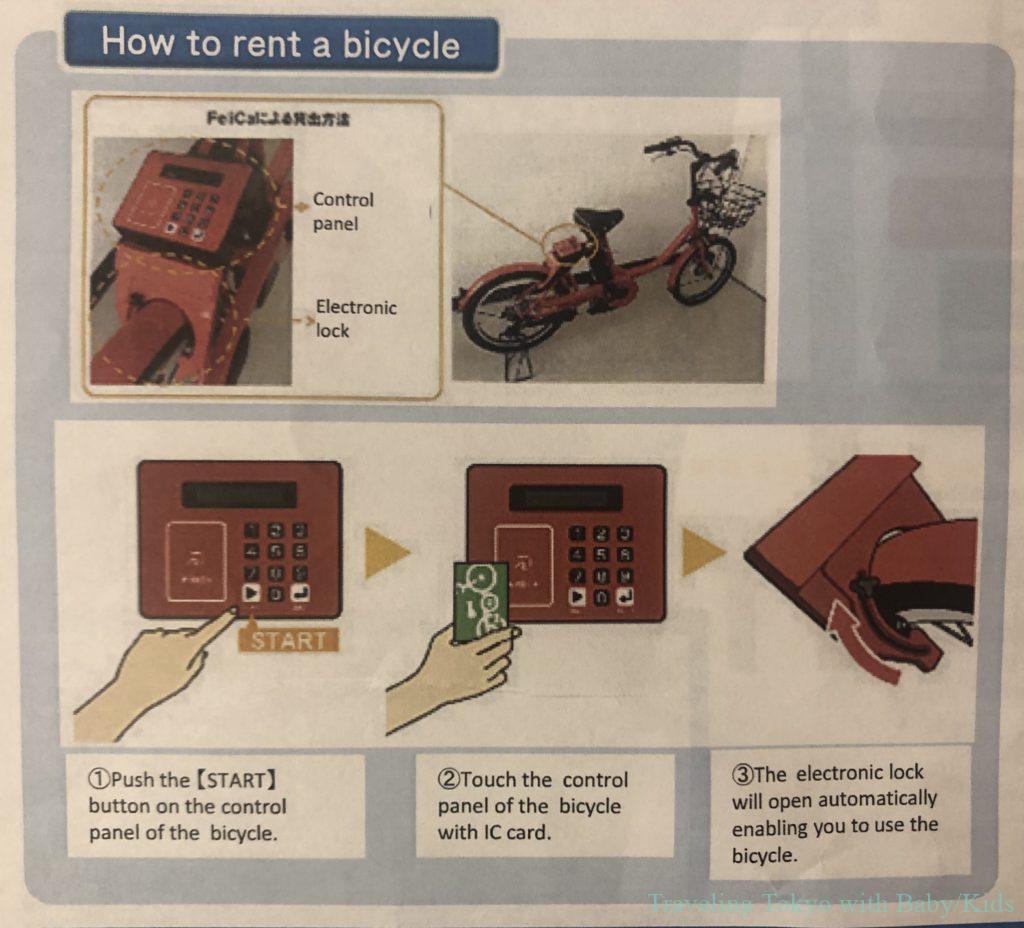 4, Enjoy riding bike and city
Now enjoy exploring city anywhere you like!
Stop by anywhere you want, but please don't forget to rock the key while temporary parking.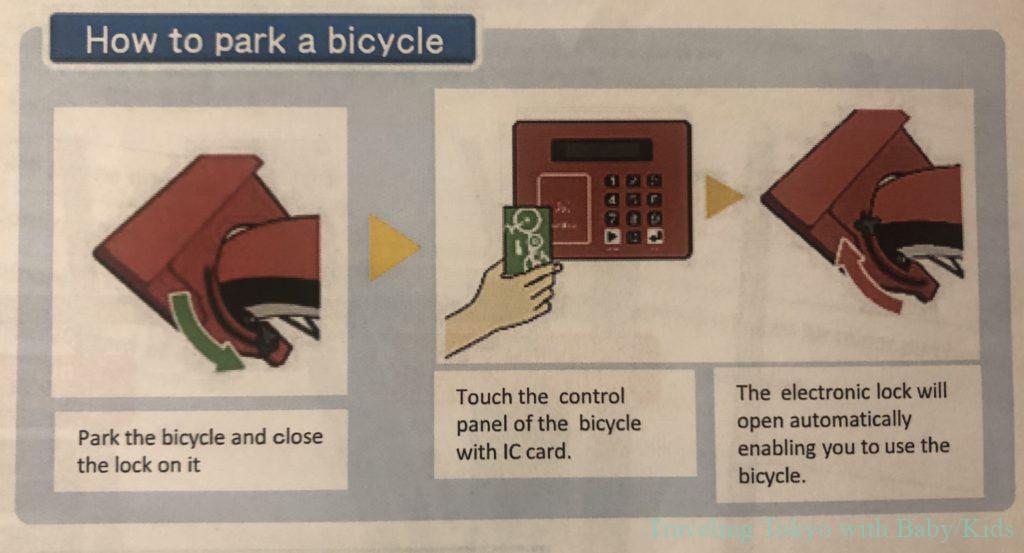 5, Return bike
Go any docking port to return.
After parking safely, lock the key then press ENTER button on the control panel at back wheel.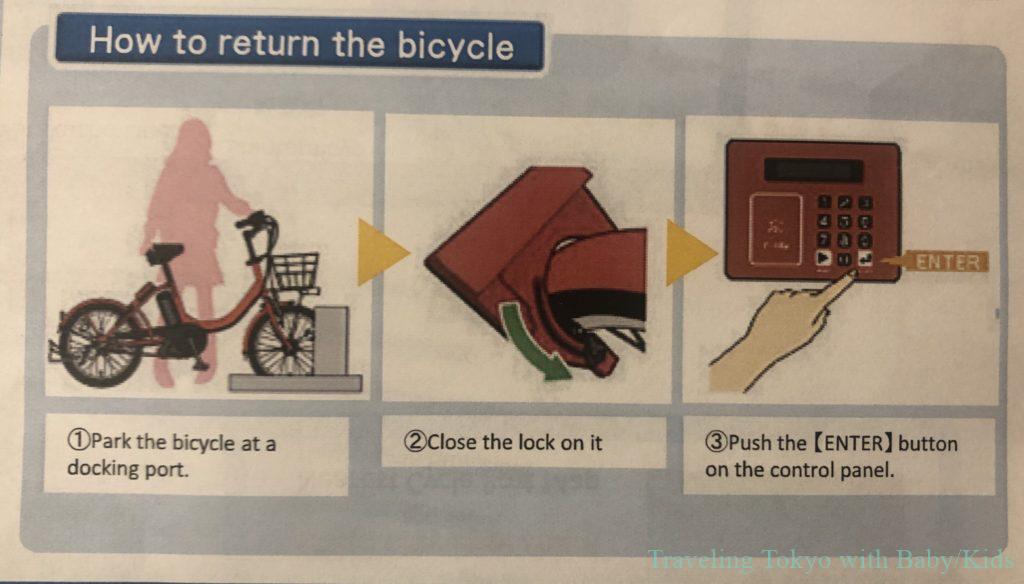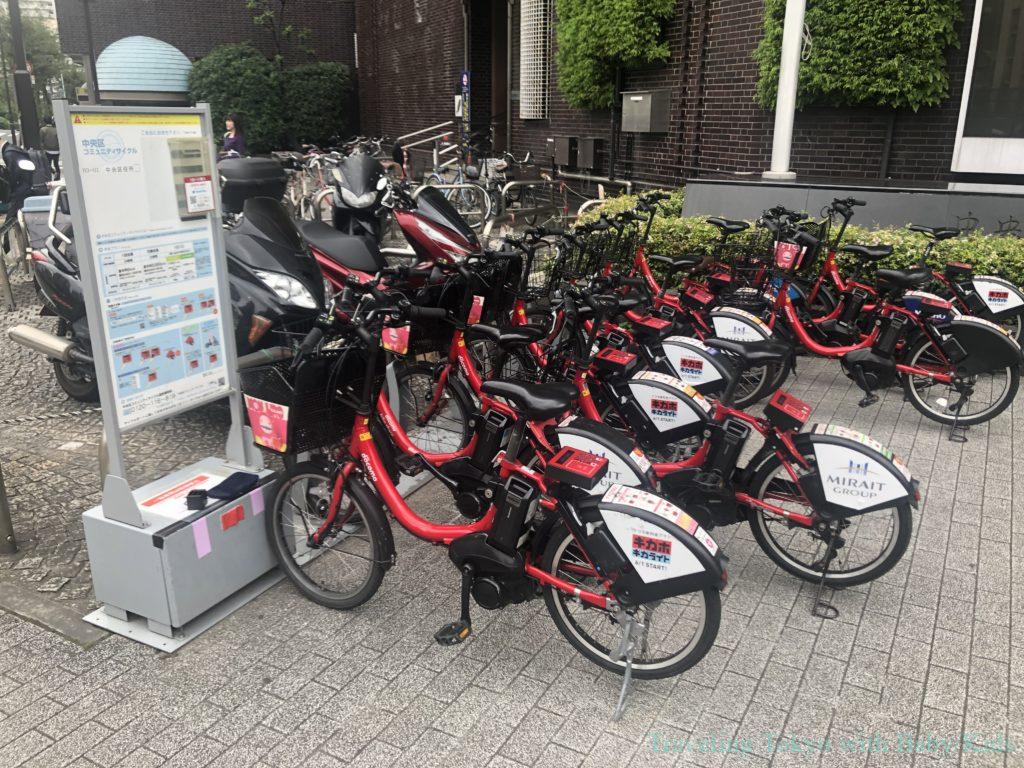 ---
---
Japanese traffic rules for safe drive
To enjoy riding bike, need to understand Japanese local rules in advance.
Please read below for Japanese traffic rules, and Enjoy city cycling with family!
Trafic safety guidelines by Japan National Police Agency
---
Related articles

Rental bike at Muji flagship store in Ginza

Run around Imperial Palace garden

Hibiya park (next to Imperial Palace)

Cozy Marunouchi Street

Hama-rikyu Garden near Ginza

New chill out spot near Hamamatsu-cho "Waters Takeshiba"

---
Other articles