My daughter and I like Aquarium so always try to go aquarium whenever we travel. If your kids like them too, these three is my recommendation in central Tokyo. (All three are indoor and convenient to go by train)
My favorite aquarium! Penguins fly in the sky, big tank make you think you are deep in the ocean, cute seals are swimming with elegance,,, not so big but the attractive way of showing fish and water-animals would make you and your kids very happy.
It is on the roof top of big commercial building, Sunshine city in Ikebukuro area. Access is very good, about 5 min walk from "Higashi-Ikebukuro" station of Yurakucho Line, walking through underground walkway to large shopping building.
Sunshine city has many shops, restaurants, amusement park like NAMJATOWN, Planetarium by Konica Minolta, observatory that you can try VR (Virtual Reality), etc… so family can enjoy whole day.
I have annual pass of this aquarium so my daughter and I often spend a day when the wether is not good to be out.
Sunshine Aquarium Opening Hours and Fees

Address: Rooftop of World Import Mart Building, Sunshine City, 3-1 Higashi-Ikebukuro, Toshima-ku, Tokyo, 170-0013 (Link to Google MAP)
Sumida Aquarium in Asakusa (TOKYO SKYTREE town)
in Asakusa area The symbol of Tokyo, Tokyo SKYTREE has aquarium too. Compact and newest aquarium in Tokyo, Opened in 2012 when Skytree town opened.
It's on 5th and 6th floor of TOKYO SKYTREE town, many variety of stores and other amusement facilities are also waiting for your family!
—> Aquarium in the Tokyo SKYTREE tower (link to details)
Sumida Aquarium Opening Hours and Fees

Address: 5-6F, TOKYO SKYTREE TOWN Solamachi 1-2, Oshiage 1-chome, Sumida Ward, Tokyo 131-0045 (Link to Google MAP)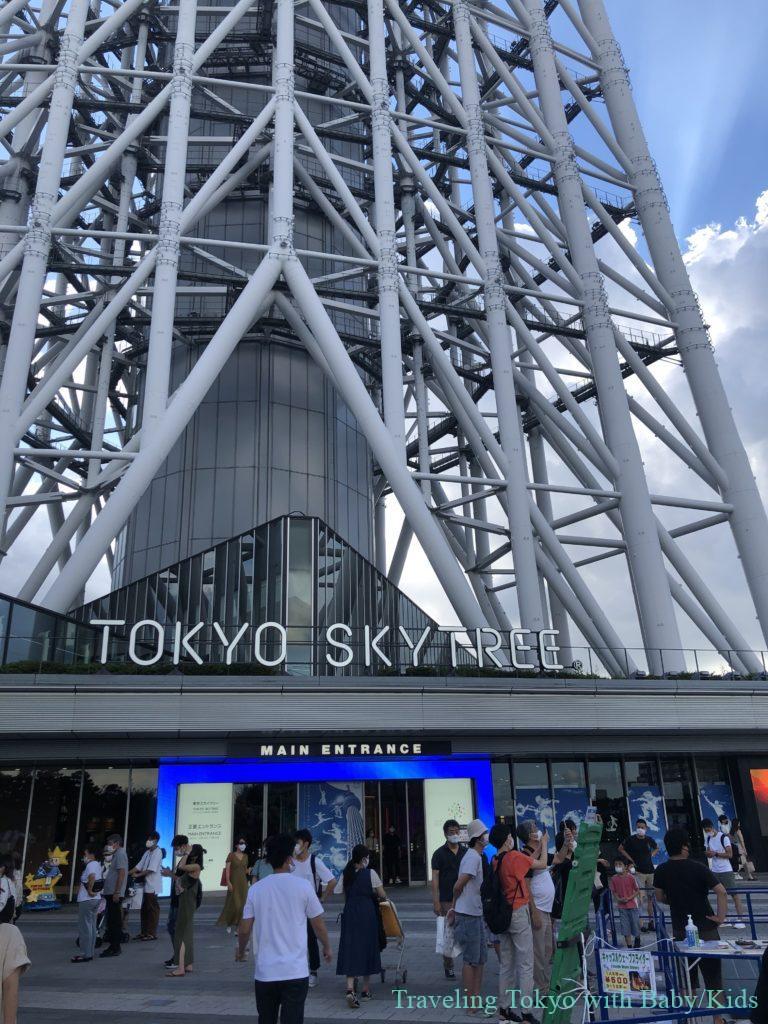 ---
---
About 2min walk from Shinagawa station (Takanawa-Exit side),
it is located in "Prince Hotel Shinagawa".
Not only convenient location, this aquarium hold Dolphin shows at big indoor round pool!
Dolphin's clever move is wonderful, lighting and music of show is also worth to see.
Opening hour is longer than others – night aquarium might be good idea as special travel memory.
—> [ Maxcell Aqua park Shinagawa ] Entertaining Aquarium near Shinagawa station (link to details)
Aqua Park Shinagawa Opening hours and fees

Address: 4-10-30 Takanawa, Minato-ku, Tokyo 108-8611 (Link to Google MAP)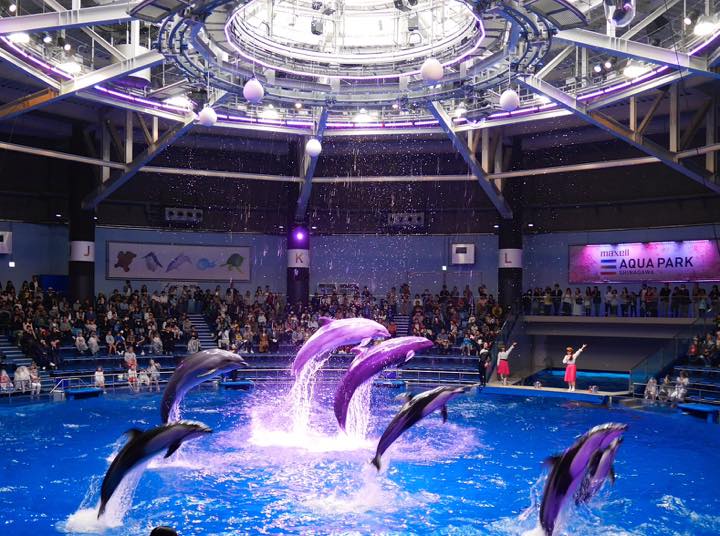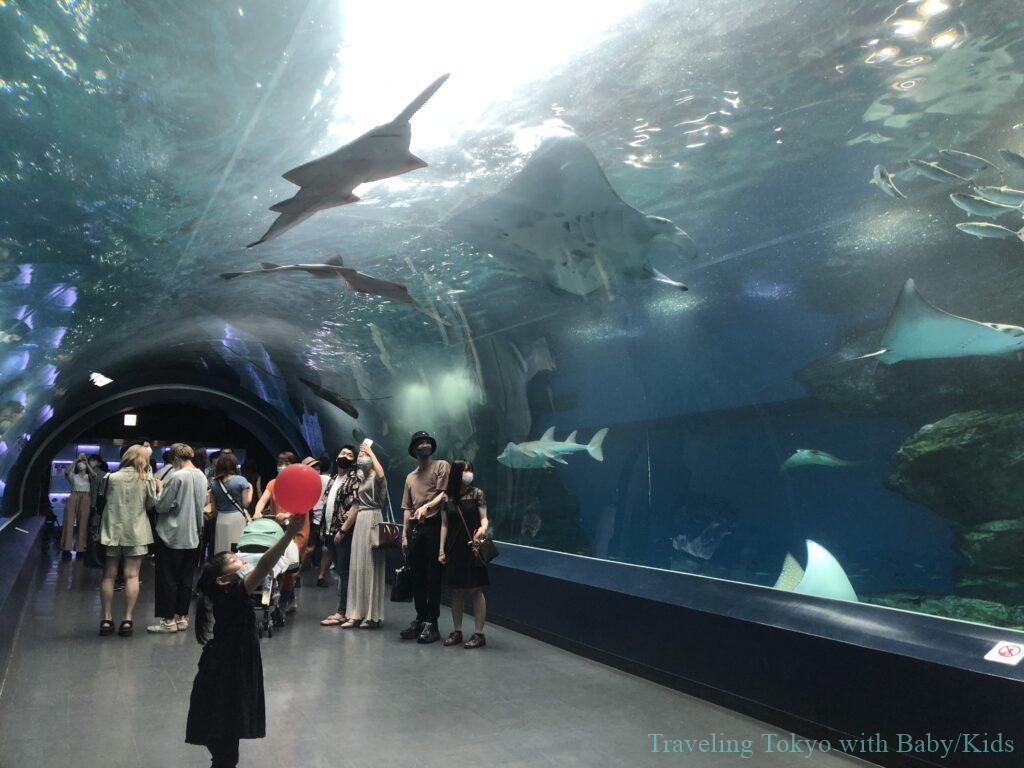 ---
Tokyo Sea Life Park (near Tokyo Disneyland)
Located in Kasai-Rinkai park, wichi is one station from Tokyo Disneyland/Disney sea – Please see link below for detail.
–> Tokyo Sea Life Park (link to detail)
Tokyo Sea Life Park Opening hours and fees
Address: Tokyo Sea Life Park, 6-2-3, Rinkai-cho, Edogawa-ku,Tokyo 134-8587 (Link to Google MAP)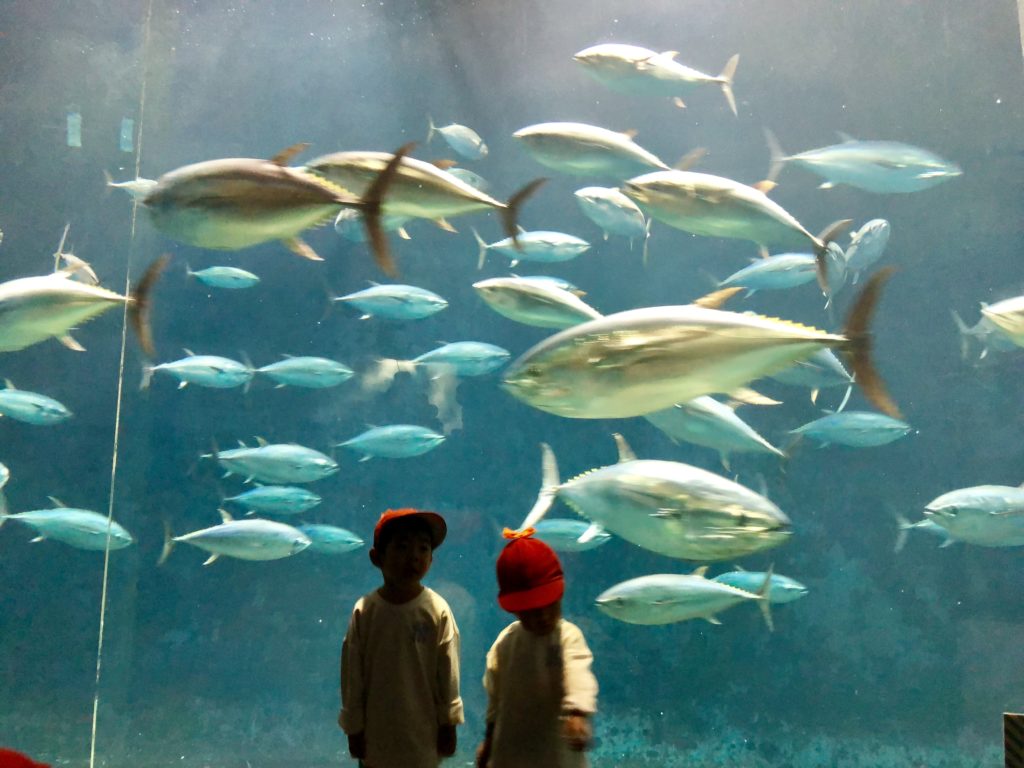 ---
Related Articles
[ Maxcell Aqua park Shinagawa ] Entertaining Aquarium near station

Aquarium in the Tokyo SKYTREE tower
---
Other articles