What is TOKYO Mizumachi?
Opened 2020, redevelopment area connecting Asakusa and Tokyo Skytree.
There are peaceful garden, cafes, restaurants, several shops along railroad and Sumida river.
Thanks to this new area, we can enjoy walking from Asakusa to Tokyo Skytree, which both wonderful sightseeing spot in Tokyo.
TOKYO Mizumachi ( Official website )

Address : 1-2, Mukaijima, Sumida-ku, Tokyo, 131-0033 ( Link to Google Map )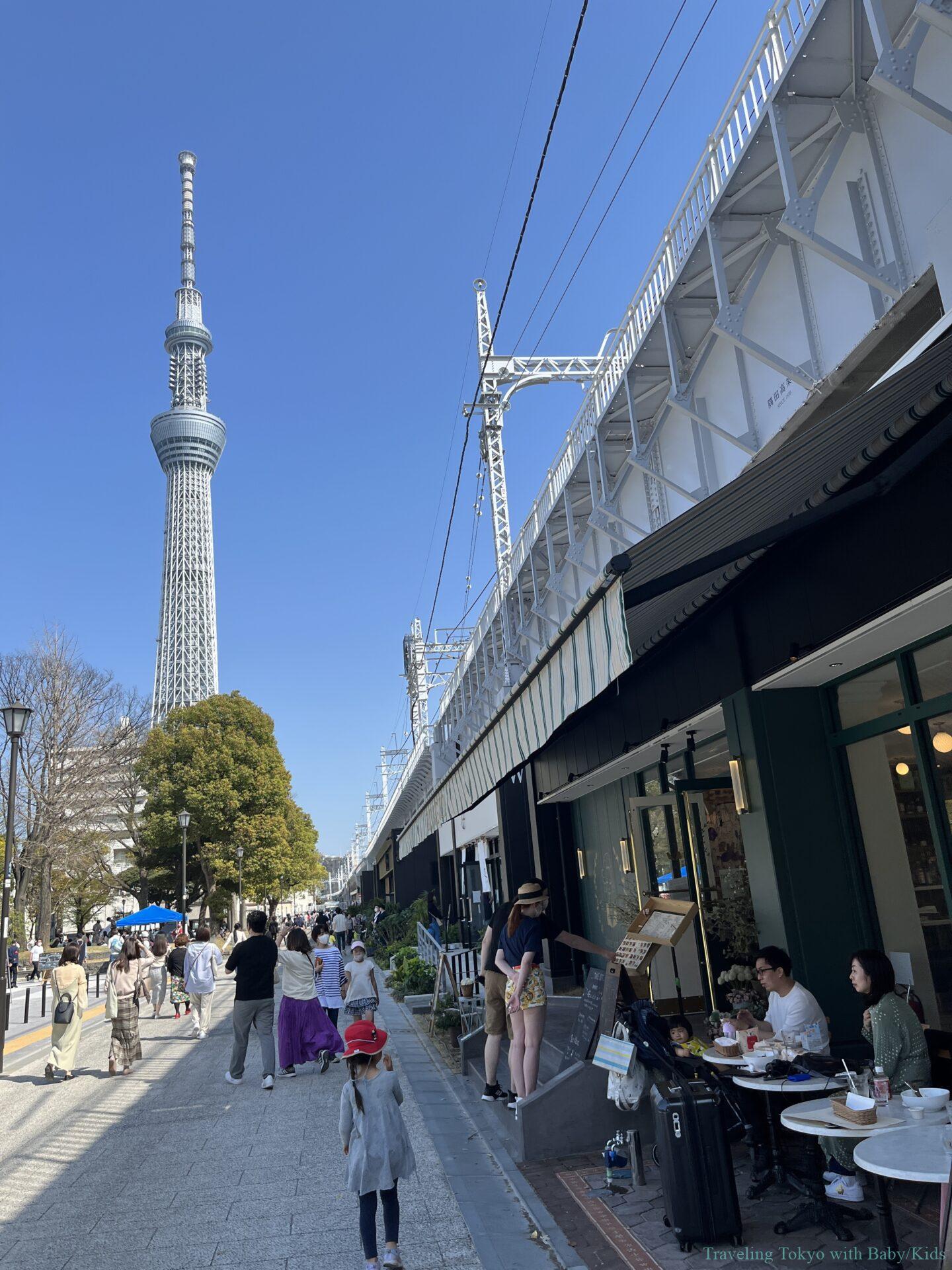 Sumida Park – family friendly garden
Sumida Park is river side park on both side of Sumida River.
Especially cherry blossoms are awesome around this area.
As Skytree side of park has been renewed along with Mizumachi in 2020, this park became quite popular for local family and visitors.
Although no children's playground equipment, kids are having fun with lawn / pond / small hills / rocks / trees.
Public Toilets are also new and clean.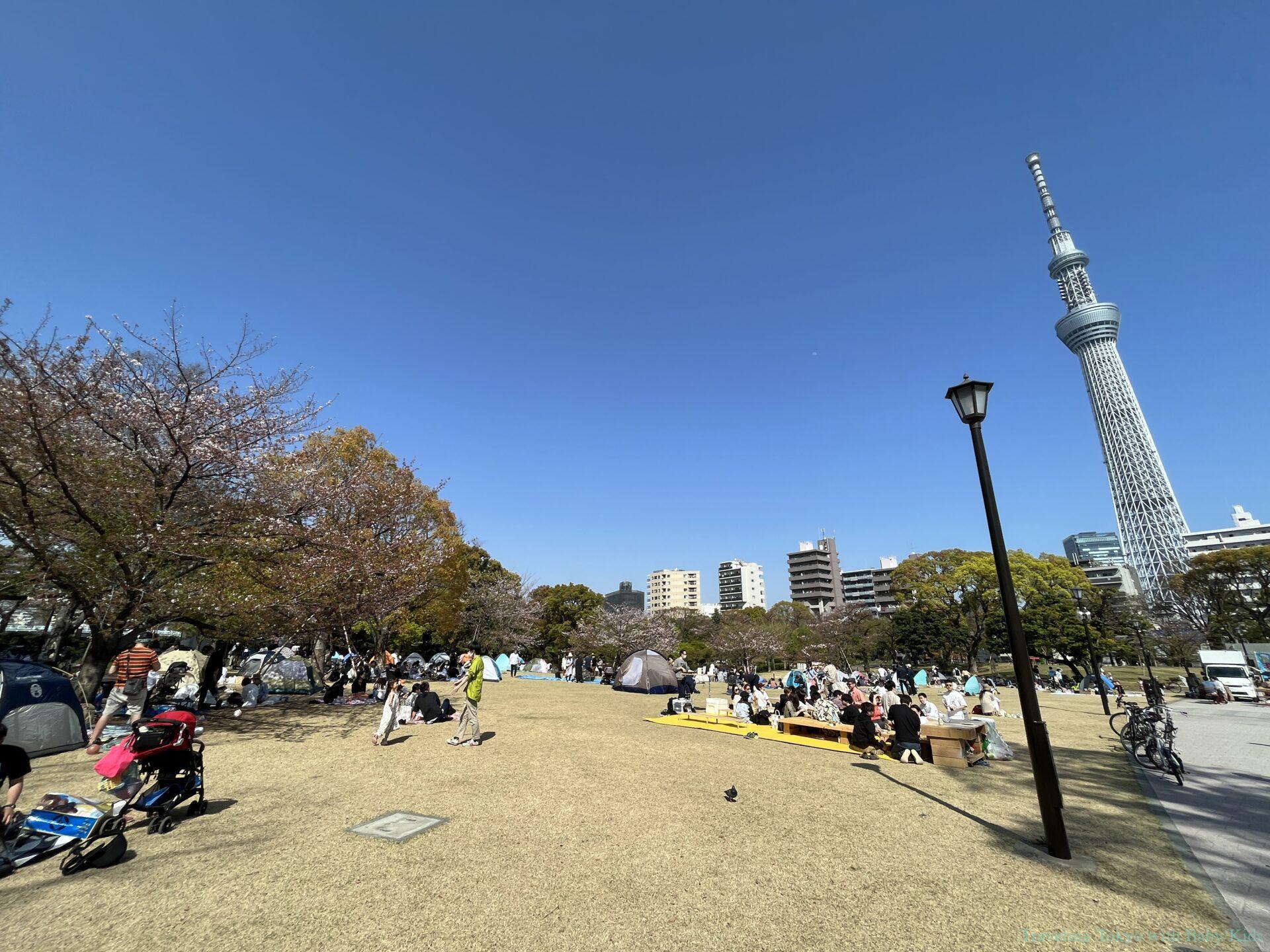 Related articles ;

—> Best cherry blossom viewing parks in Tokyo
---
---
About 10min walk from Asakusa station or Tokyo Skytree.
Address : 1-2, Mukaijima, Sumida-ku, Tokyo, 131-0033 ( Link to Google Map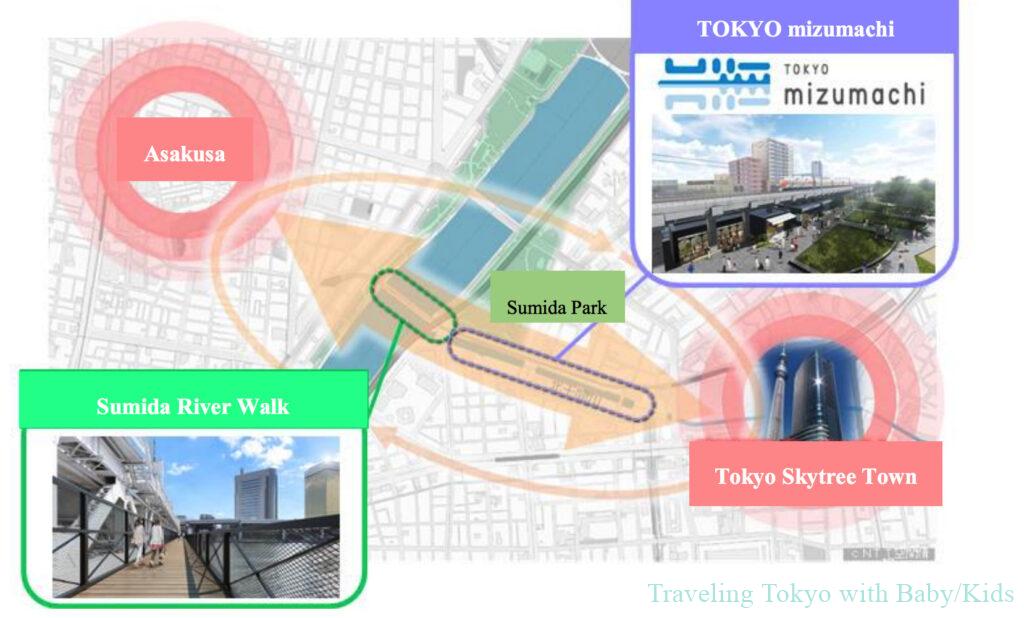 When you come or go to Asakusa area, new walking bridge called "Sumida River Walk" might be fun!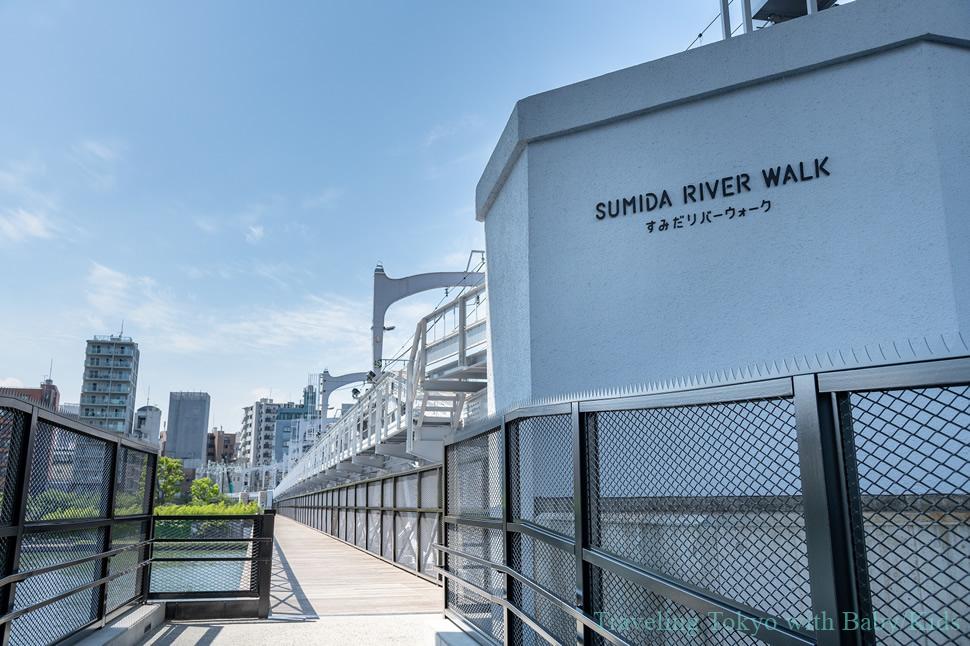 Boat cruise from Asakusa pier is also good choice for family .
Please check time table and destination online.
Tokyo Cruise ( Official Website )

Asakusa pier location : 1-1-1 Hanakawado, Daitou-ku, Tokyo

—> Time Table from Asakusa pier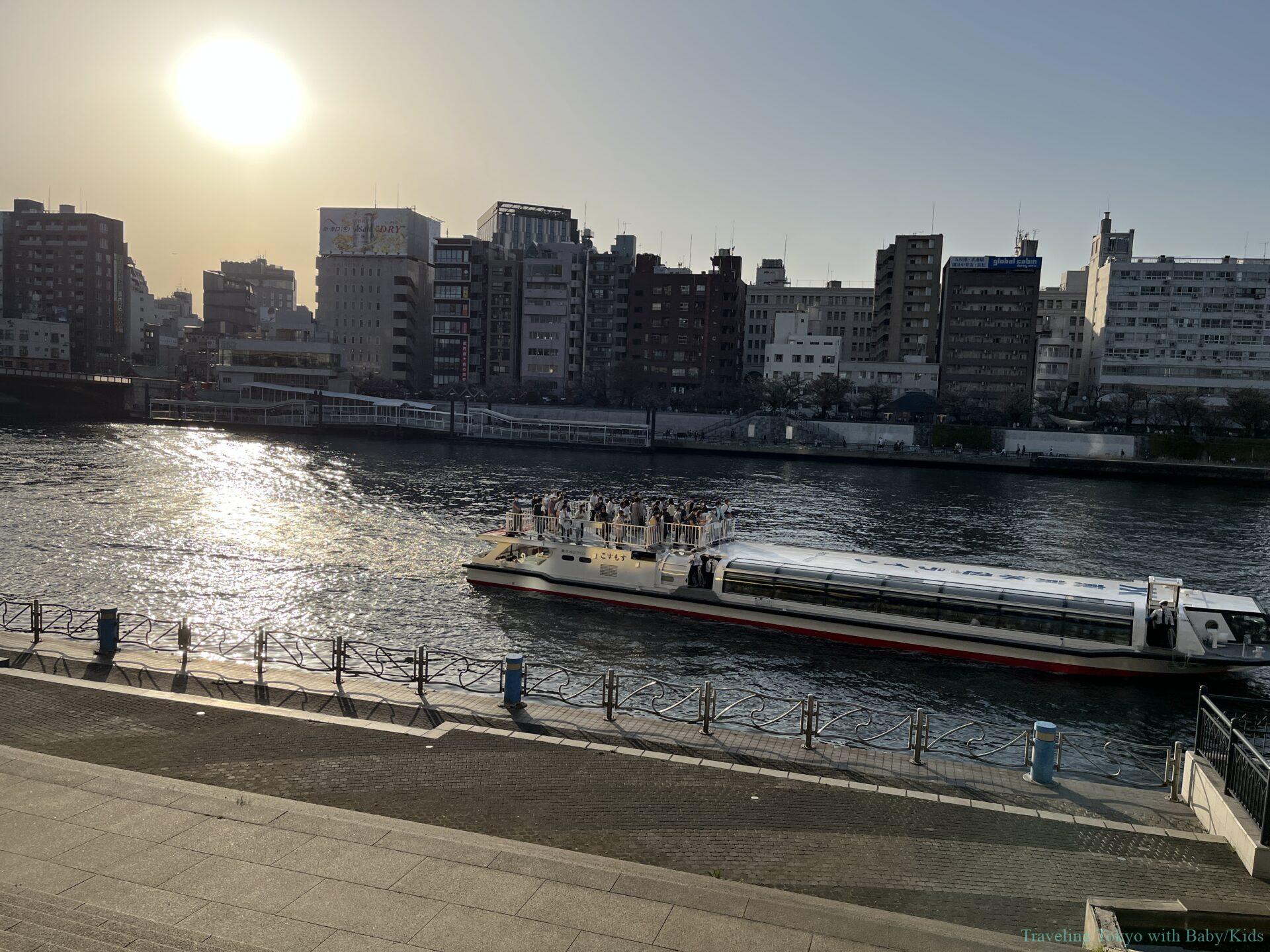 Related articles ;
---
---
Asahi Beer Tower
Ask your kids what's this looks like?
It's HQ of Asahi holdings, yes, The Beer ASAHI SUPER DRY.
These buildings are designed by famous French designer Philippe Starck.
There is nicely casual restaurant inside black-box-shaped building, as well as inside of this beer building, 22F.
Both family friendly.
Asahi beer restaurant "flamme d'or" ( Link to Tabe-log English page )
*1F of Black box shaped building with golden object

Asahi Sky room Lounge ( Link to Tabe-log English page )
*22F of Beer-shaped building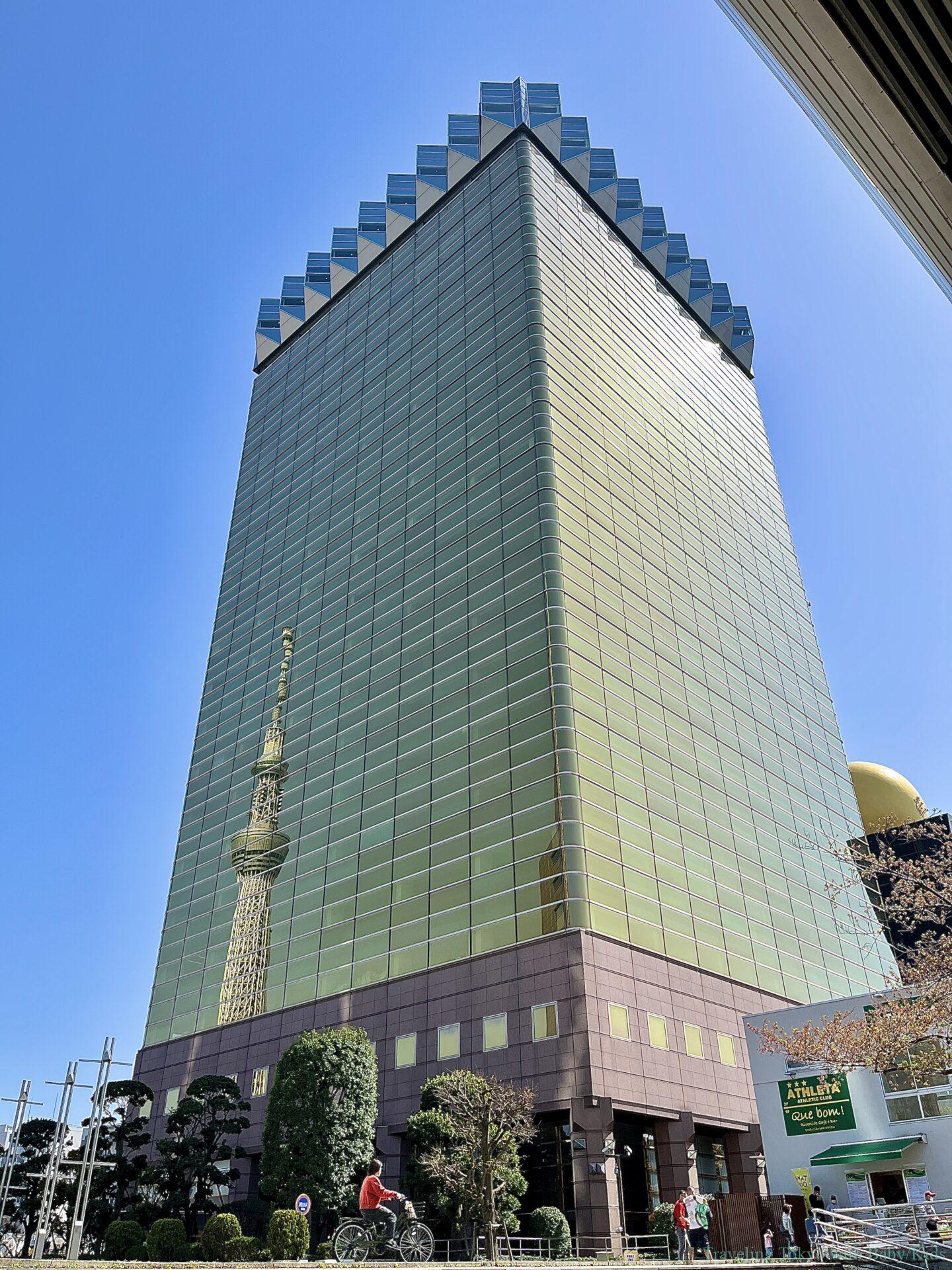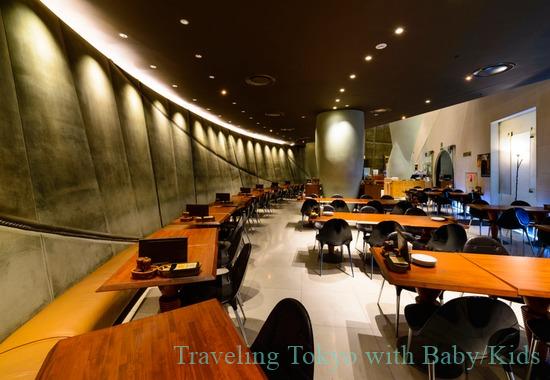 ---
Related
[ TOKYO SKYTREE ] How to enjoy with Baby/Kids

Aquarium inside The Tokyo Skytree

Best Cherry Blossom viewing spots in Tokyo with baby/kids

[ Kappabashi kitchenware street ] Kitchenware shopping street in Asakusa
---
Recent posts